Pakistani Diet Plan for Weight Loss in 7 Days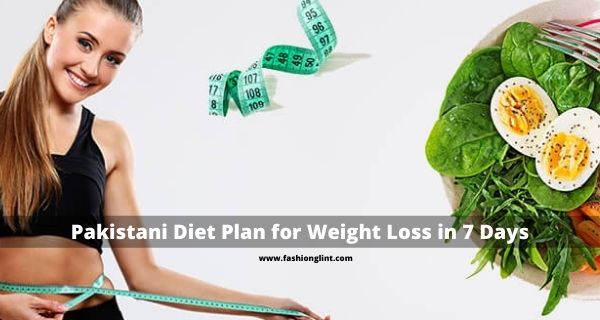 Need to lose weight? Looking for the best Pakistani diet plan for weight loss in 7 days? YES? Then you're at the best place. At fashion Glint, being a nutritionist I am sharing the best Pakistani diet plan for weight loss in 7 days for males or females with a 1200 calories Pakistani diet plan for weight loss in 7 days.
When it comes to weight loss, being a Pakistani food lover it's hard for many of us to follow a certain diet plan. Because many of us cannot stay away from those rich and tasty Pakistani foods that we used to eat since our childhood. So the part of this post is intended to answer all of your queries including Which Pakistani food is best for weight loss? What diets are popular in Pakistan? What is a good menu for losing weight? How can I lose weight with Desi diet?
Are you committed to drop a few pounds for staying fit and look attractive? I think if you're looking for a Pakistani diet plan chart, I don't need to emphasize the importance of shedding weight or elaborate on the risks of being obese or overweight, as I know you are already motivated to lose weight in order to stay fit and look chic.
If we talk about, what diets are popular in Pakistan? There are myriad diet plans available to follow from Keto diet plans to high protein diets. But the logical question is which diet plan suits your body's more than the other. So do some work on it by trying different diets and closely observe the results. For instance, some people begin to gain weight with a Keto diet plan instead of losing weight.
Professional Tip: Stop following crash diets, medicines and gimmicks, and false traps that many weight loss supplements claim. There is no such quick fix to lose weight, maintain or dropping one or two sizes need a lifestyle change, healthy eating habits, proper exercise regime, and patience. Follow a diet that you can follow for your whole life keeping in mind your body type, health issues, and other factors.
Pakistani Diet Plan for Weight Loss in 7 Days Dos & Don'ts
In order to have a save weight loss diet plan to achieve a great body and optimum health, here are few rules that everyone considering losing weight must know before diet plan for weight loss in 7 days
Eating a Balanced Caloric Deficit Diet is the Key
There is a famous saying "Your body is what you eat". When it comes to weight loss, your caloric intake and food matter 80% while the remaining 20 % is all about exercise and the period of time you stay active.
Every person needs a specific amount of calories to maintain or lose weight. And if you need to lose few pounds or gain few pounds, you need to keep a caloric deficit or caloric surplus respectively.
On average women need an intake of 1800 to 2000 calories per day to maintain weight but if they consider losing one pound per week, they need an intake of 1500 calories per day.
Likewise, males need a calorie intake of 2000 to 2500 per day for maintaining their weight but for losing one pound per week, they need an intake of 2000 calories per day.
Note: Caloric deficit doesn't mean that you need to starve yourself or have less food. It means eating nutritious, healthy, and wholesome foods, rather than fast food, junk, bakery, pizza, pasta, high carbs. You don't feel hungry all the time and your calories are also consumed within limits. It just swapping unhealthy food with wholesome healthy food options.
Understand Which Foods to Eat and Which Foods to Avoid
If you are following a Pakistani diet plan for weight loss, it is crucial to understand what foods or food groups you should incorporate into your diet and also understand what foods or food groups you should avoid.
Foods to Include in Your Diet
Your breakfast, lunch, or dinner must contain balanced portions of protein, fat, and vegetables (try incorporating low carbohydrate vegetables for healthy weight loss).
Here I am mentioning the best sources of protein, fats, and carbohydrates that you can use to make your own Pakistani diet plan for weight loss according to your budget as well.
Proteins
Proteins are considered essential when it comes to nutrients and muscle strengthening and repairs in the body. Moreover, it has the ability to reduce your hunger by stimulating a feeling of fullness. Hence, you get lesser unwanted cravings for snacks and higher metabolism.
Here are the best sources of proteins
Eggs: A whole egg is considered an ideal source of protein due to its nutritional value and absorption rate.
Meat: Beef, lamb, Chicken, mutton
Fish & Seafood: Herra, Rohu, and dhotar fish
Vegetables and Fruits (Low-Carb)
Vegetables and fruits with low carbohydrates can help you during your weight loss journey by providing you with the necessary fiber, vitamins, minerals, and crucial elements that are required for growth. Try adding large portions of low-carb, relatively less sugary vegetables and fruits to your meal as they contain fewer calories.
Best vegetables and fruits for
• Peach
• Watermelon
• Blueberries
• Strawberries
• Melon or Cantaloupe
• Cauliflower
• Spinach
• Tomatoes
• Cabbage
• Lettuce
• Cucumber
Fats
You can use healthy oils like olive oil, Coconut oil, butter, or ghee for cooking your meals. But avoid refined oils like grape seed oil, soybean oil, Canola oil, corn oil, and trans fats like Margarine.
Drinks
Keep a balanced water intake during your weight loss journey to stay hydrated. Drinks you can enjoy while on a diet plan.
• Water
• Lemon water
• Zeera water
• Sparkling water
• Unsweetened green tea
• Ginger & turmeric tea
Pakistani Diet Plan for Weight Loss in 7 Days
Being Pakistanis, almost all of us love to eat desi food and tend to ask such questions when looking to lose some pounds. What is a good menu for losing weight? How can I lose weight with Desi diet?
So here I am sharing various desi recipes that you can eat without guilt when on a diet.
Breakfast:
Omelet loaded with onion, tomato, and spinach
Boiled eggs
Lunch:
Grilled fish plus Keto cauliflower recipe
Protein-rich Shami Kebabs (shallow fry) with some fresh veggies salad
Cobb Salad
Chicken Salad
Chickpea Salad
Bean Salad
Basin Roti & traditional salad of cumber, tomato, onion and add some salt lemon and black paper.
Dinner:
Protein-rich mutton shami kebab with a fresh vegetable salad
Tandoori Chicken with fresh low carb vegetable salad
Moong Daal soup
Masoor Daal soup
Chicken soup
In case you are looking for a full day 1200 calorie Pakistani meal plan for loss, reading this article might help you.