20 Top Female Clothing Brands in Pakistan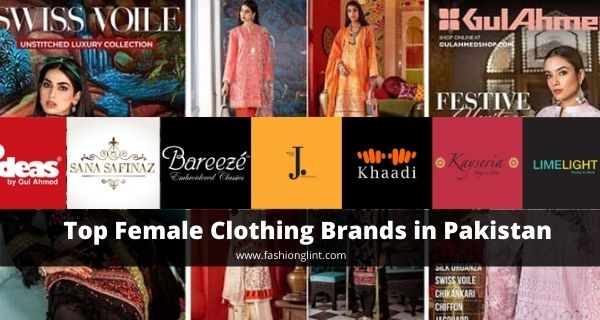 If you love to dress yourself elegantly then this article Top female clothing brands in Pakistan is just for you. This post features top ladies clothing brands in Pakistan that are popular among Pakistani girls and women equally based on different factors like affordability, prints, fabric quality, designs, and cuts.
Before you speak your personality speaks itself. Your dressing sense and style can say a lot about your inner personality. In essence fashion with a hint of personal style is no less than an instant language. It is a way of maintaining and expressing your personality.
And females are exceptionally eager to dress differently by continuously exploring and picking from the top female clothing brands in Pakistan. Being ladies we are born with an innate sense to continuously purchase the most trendy and latest dresses whether it's a casual dress or a formal one for an upcoming event.
There are a plethora of ladies clothing brands that are popular for offering a wide range of designs, cuts, and collections including casual wear, formal wear, loungewear, shoe collection, and accessories.
As each clothing brand tries to come up with the latest fashion trends and introduce new styles with their every collection whether summer or winter— resulting in females have become more style-conscious than ever before because they are spoilt of choice.
Here is the list of top female clothing brands in Pakistan:
Ethnic
Sapphire
Limelight
Alkaram
Gul Ahmed
Nishat
Khaadi
Sana safinaz
J.
Cross stitch
Bonanza satrangi
Rang ja
Maria B
Edenrobe
So Kamal
Chinyere
Almirah
Generation
Kayseria
Ego
Breeze
Warda
20 Top Female Clothing Brands in Pakistan
Let's get started with the top clothing brands in Pakistan
Ethnic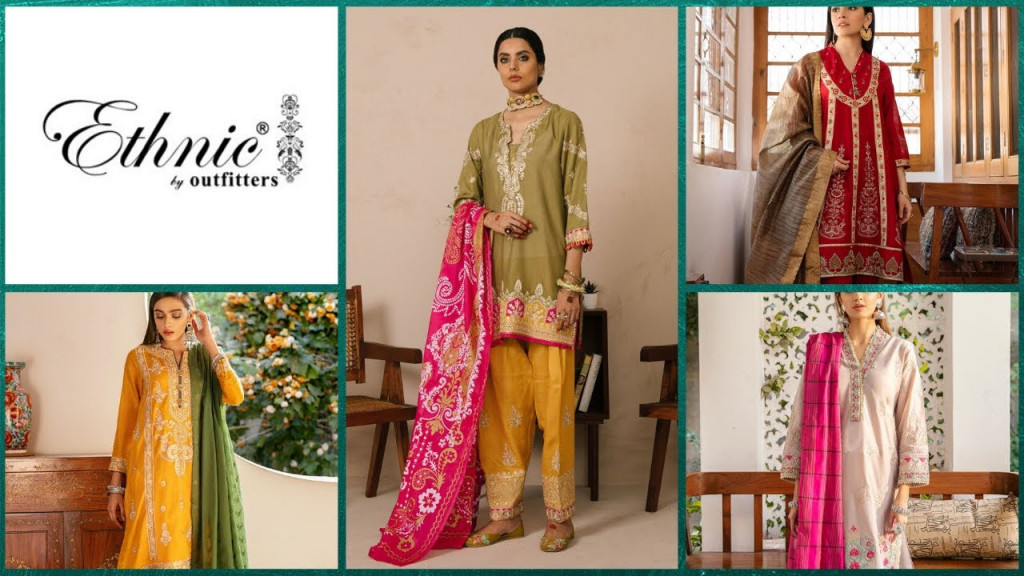 Ethnic is the most popular female clothing brand in Pakistan when it comes to traditional ethnic dresses in a plethora of styles. In 2013, Outfitters established "Ethnic by Outfitters" this much-awaited female brand has been winning the hearts of women with its huge selection of female dresses for every age from teenage girls to elderly women and received copious accolades from its valued patrons.
Ethnic is known as a clothing brand for girls and ladies in Pakistan that is closely linked to our culture and roots so that ladies can truthfully embrace the core of their traditional beauty while leading their ways in this modern world. Ethnic by Outfitters is Lahore based brand popular for the use of fine fabric, vibrant hues, versatile prints, and meticulous craftsmanship.
You might also be interested in Top Men's Clothing Brands in Pakistan
Sapphire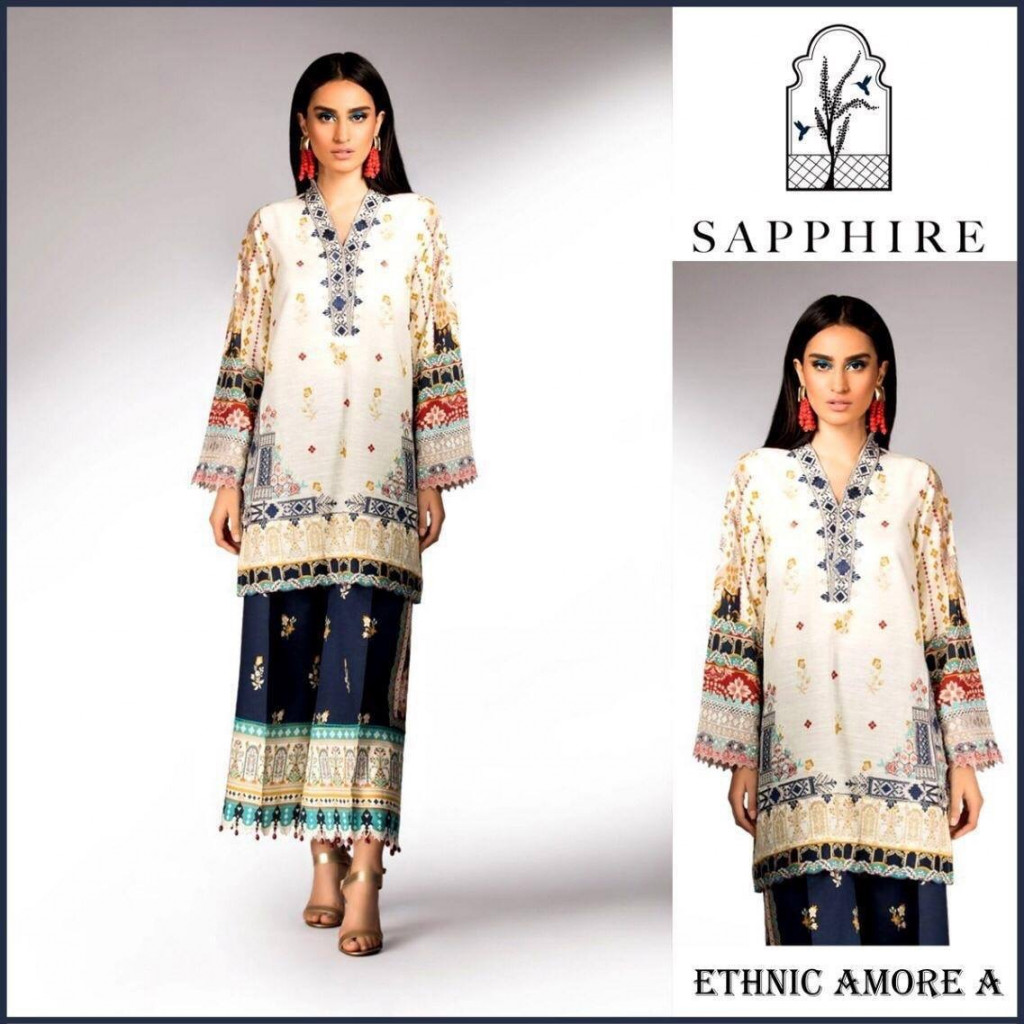 Sapphire is one of the best Pakistani clothing brands for worn which is well known for their unique diverse variety of pret ready-to-wear dresses and unstitched dresses for all occasions from casual to formal.
Sapphire is dominating a good position when it comes to high-street clothing in Pakistan at market competitive prices. 100% pure fabric, unprecedented design aesthetic, and designer cuts are the unique selling points of this clothing brand. Their range of clothing consists of something for everyone from teenage girls and elderly women to the females looking for western wear dresses.
Sapphire clothing could be the right place for you if you are looking for daywear dresses or formal dresses their product line includes the following
Party wear
Formal wear
Silk tunics
Scarves
Unstitched fabric
Shoes
Bags
Coats
Western wear dresses, shirts & pants
Jewelry
Home wear
Khaadi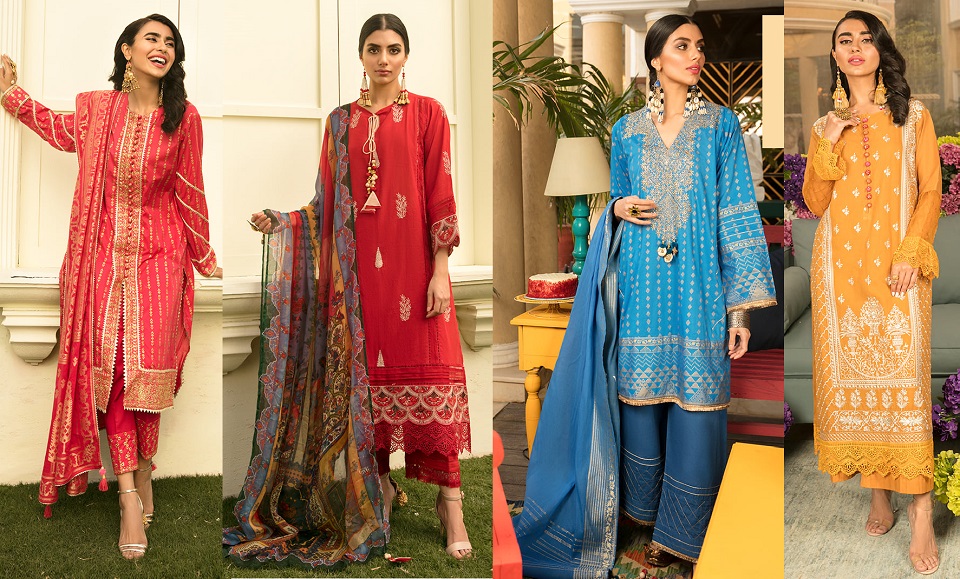 Khaadi is a fashion brand that always comes up with prints and embroidered work in a traditional yet stylish way. Intricate embroideries, finest fabric, pretty embellishments are always on point to catch the attention of customers looking at Pakistani-style dresses.
Their unique meld of delicate design and luxury fabric, commitment to using quality fabric set them apart as one of the retail female clothing brands in Pakistan. This all-embracing brand with its different collections is offering affordable designer clothes to the masses. Their products line includes the following
Unstitched casual and formal wear collection
Pret casual and formal dresses
Khaas dresses
Footwear
Accessories
Homeware products
Sana Safinaz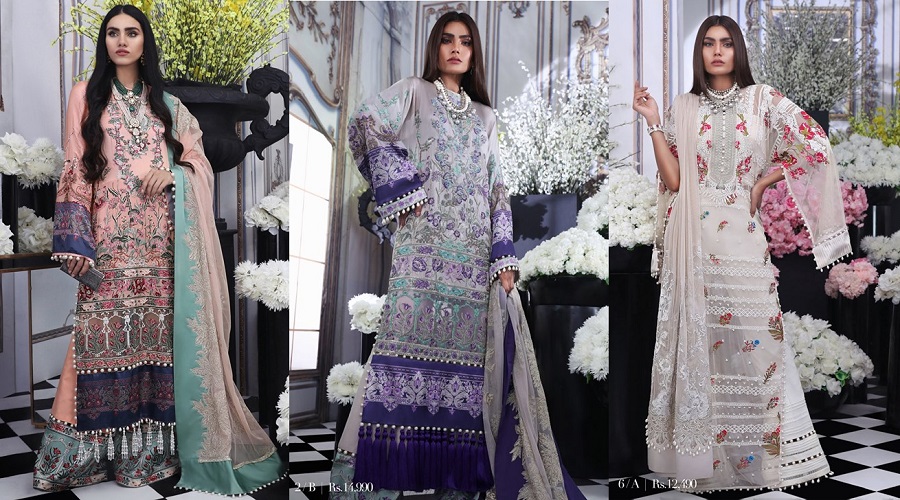 Sana Safinaz brand label was established in 1989 created by Sana Hashwani & Safinaz Muneer. It is known as a prestigious fashion label in and across Pakistan. They both are the pioneers and true innovators when it comes to their seasonal collections and ready-to-wear dresses.
It's one of the leading luxury retail brands offering females with their attire collections include to Pret-ready to wear formal & casual shirts and bottoms, formal wear suits, shirts and trousers, and a Bridal Couture line, tastefully designed unstitched collections for ladies, footwear, and accessories. If you want to achieve a chic look at any event this is the brand that you need to visit.
Maria B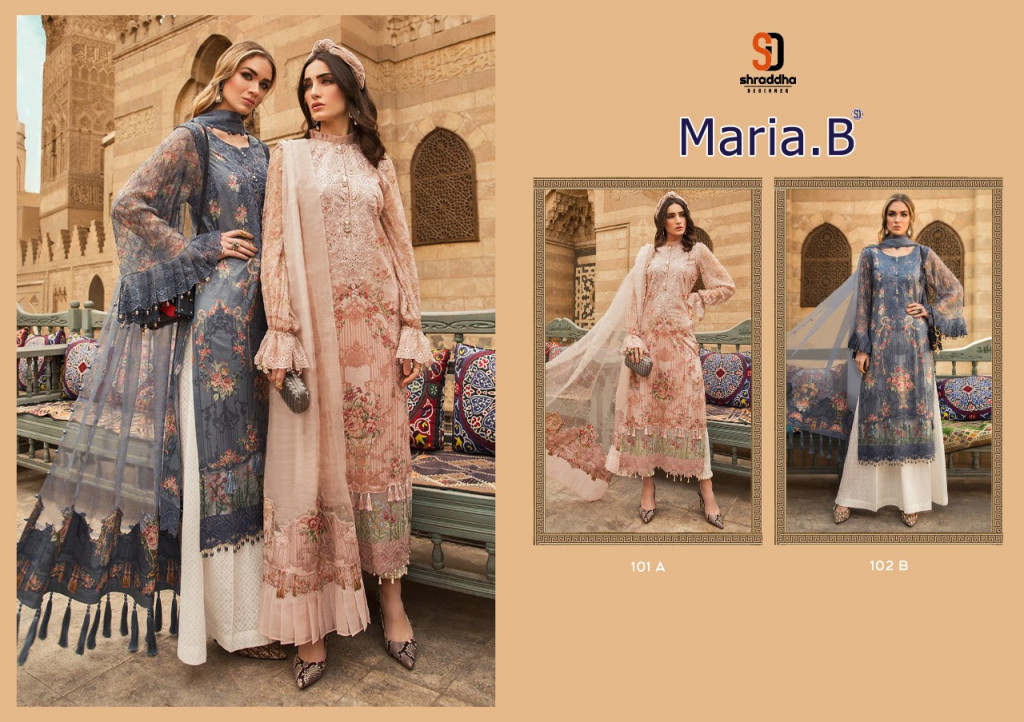 Looking for a formal or semi-formal dress for an upcoming event? Then you can visit the Maria B retail store for Avant-garde silhouettes for teen girls and middle-aged women. The originator of this brand is Maria launched her label in 1999, and with each passing year, Maria B is upgrading her styles and quality to meet the needs of the latest fashion trends.
It is based in Lahore but its outlets are too show in all major cities of Pakistan like Karachi, Islamabad, and Faisalabad. Presently you can find different collections in her stores and online including these:
casual ready-to-wear women's collection that mostly consists of three-piece stitched suits for ladies in Pakistan
Bridal couture includes bridal lehnga for Barat or walima, saree and wedding wear dresses that you can get on appointment and pre-booking after scheduling a meeting with the designer.
casual shirts for girls
Western ready-to-wear dresses for girls
Unstitched, each season she launches her summer and winter collection plus a wedding wear unstitched collection.
Haute couture
Perfumes
Jewelry collection
Accessories
Limelight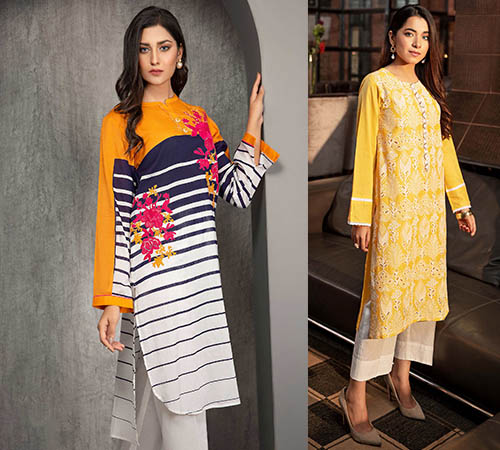 Limelight is a retail female clothing brand in Pakistan which equally popular among women of all ages because of its affordability and plethora of designs, cuts, and styles. The brand was launched in 2010 and after a short period became the brand of the masses. They have over 50 plus stores all over Pakistan and an online store too. Their product line offers both stitched and unstitched for women of all ages and all occasions including:
Unstitched seasonal collections
Ready to wear Pakistani dresses
Western wear tops, shirts, and bottoms
Winter jackets and coats for ladies
Accessories like clutches, wallets & wraps
Footwear
Bottoms
Sleepwear
Alkaram studio 
Alkaram Studio is a brand name that is owned by a renowned Pakistani business group Alkaram textile. When it comes to quality fabric no other clothing brand can beat their fabric and color quality. You can find an endless collection of regular unstitched lawn, cotton and voile prints, and ready-to-wear suits, shirts, and bottoms. It has showcased its collections at several fashions and design weeks and Haute couture.
Their clothing line offers the following products:
Unstitched law and winter collections
Party wear dresses for Eid and semi-formal events
Casual & formal shirts and kurta
MAK is a clothing line consisting of unstitched fabric and shirts for girls
Bottoms
Beddings
Men's wear fabric and stitched shalwar kameez
Ideas by Gul Ahmad
Gul Ahmed Textile Mills Ltd (GTM) group initiated its textiles business in the early 1900s. Now, this iconic brand is offering a huge range of fabric, Pret, and homeware lines under the brand name Ideas by Gul Ahmad. Since its inception, Gul Ahmed has been constantly introducing the latest fashion trends in luxury high street fashion for women, men, and home items. Their designs are stylishly modern yet ageless with luxury standard fabric for these reasons Gul Ahmed ranks as one of the top clothing brands in Pakistan and across Asia.
At Ideas by Gul Ahmed, you can find a myriad of fashion product lines including
Unstitched fabric females summer collections & winter collections
A diverse range of casual formal and semi-formal wear clothing for female
Western wear shirts, jeans, jackets, and coats for girls
Shoes for female
Accessories for ladies including scarves & dupatta
G Pret wear
Chantilly Chiffon
Chairman Latha (for men)
Digital-print Kurtis,
Home Items including; bedding, cushions and bath items, etc.
Junaid Jamshed
J. is another ladies clothing brand that deals in Pakistan and global levels. It was established by the famous singer and preacher Junaid Jamshed khan. J. offers dresses in consonance with the traditional style followed in Pakistan by the masses which makes this brand falls under the category of modest dresses. Their dresses are only aspirational, and sober but also very reasonable and affordable. The use of soft colors with unique contrast gets the heart of a buyer.
Generation

Generation was imagined by Saad and Nosheen Rahman (a husband-wife duo) in 1983. As they tried to solve the growing demand of Pakistani women for affordable clothing. Today their ideology has been climaxed into a top female clothing brand in Pakistan that offers fresh articles twice or thrice a week to update their stores without repeating any design.
The woman wears brand in Pakistan has become an iconic emblem for women who uphold and celebrate Pakistani and family rituals or traditions with a perpetual trace of novelty and originality.
Generation clothing offers each type of product line enriched with the personification of numerous expressions, they signify different timeframes and moods through their festive, casual, young, and demure collections for each season.

Nishat
Nishat Linen offers fashion to meet the various client needs by providing a varied product mix— resulting in a wide-ranging and pleasing retail experience. At Nishat, we not only aim to set new trends but also believe in conquering them.
They offer a variety of stitched and unstitched collections for both females and males
Nishat Linen clothing line offers the following range of collections for females;
Ready to wear dresses
Freedom to buy
Fusion or western wear dresses for girls
Accessories
Jewelry
Bags
Footwear