14 Halloween Nail Art Ideas 2020 | Easy DIY Nail Designs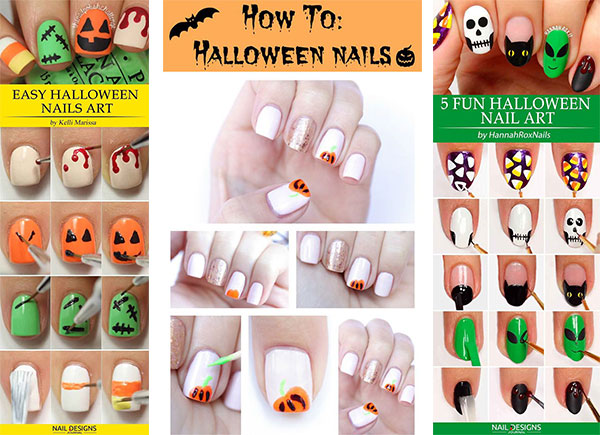 Halloween is all about going out that might not be allowed this year (obviously due to the COVID pandemic). But spooky nails, costumes, hairstyles, and makeup aren't going anywhere this season. Pinterest and Instagram are clear indications of Halloween celebrations—this means Halloween nail art ideas 2020, Halloween costumes, and Halloween makeup would be much more creative and unique for 2020. Given the fact that many festivals are going virtual in 2020, that makes Halloween nails seem all the more likable. They're super entertaining, super inexpensive, and very easy to DIY, and we guarantee they would look fabulous in a Zoom frame while you're holding anything from cocktail to spiked cider. Plus, in the middle of this worldwide outbreak when the world is not normal— arranging a Halloween costume, costs a lot of money. Similarly, Halloween makeup requires time and lots of effort to execute, that's where spooky nail art has an advantage.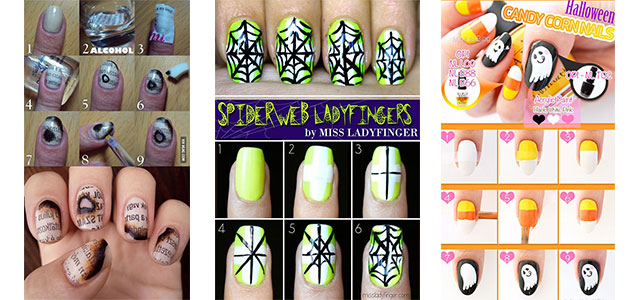 Though this obvious we can't rejoice Halloween party like normal this time, nothing is stopping us from spooky manicures. Whether you're celebrating a Halloween party at home eating having your cocktail or get ready for a virtual or socially distant get-together, these nail art designs ideas will make your celebrations the most fun and happy. From creepy spider webs to bloody vampires, here are 14 Halloween manicures to recreate at home.
Here are our favorite Halloween nail art ideas 2020, these are new twists on the already big winter/fall nail design trends that you can easily do yourself (step by step nail design picture tutorials are provided). Think blacks, white, metallic,  mismatched Skittles nails, and different hues of orange.
October 31, 2020 (Halloween Day) is just around the corner. Let's all have some spooky fun. Scroll on for the easy DIY Halloween nail art ideas for 2020.
Easy Moon Nail Art Design
For painting, this Halloween nail art design, apply a black base coat and draw half or full moon with white or silver nail paint. The moon nail design at home picture tutorial will help you well.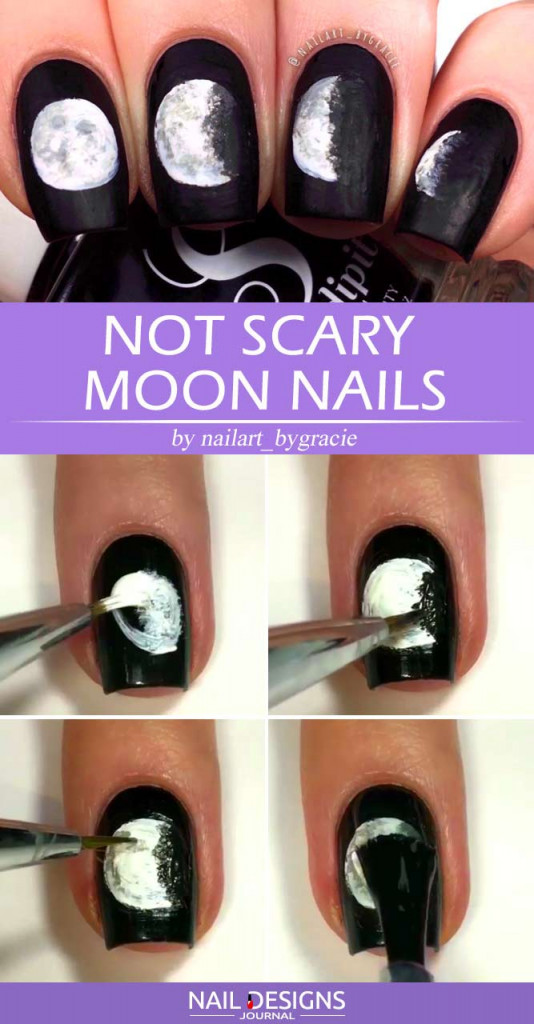 Horror Movie Mani
What's better than a murderer themed manicure, if it's Halloween for creating a horror element? Horror movie themed nails are just to die for. For creating a terrifying mani, paint your favorite horror movie characters on nails and here you go!
Coffin Nail
Yes, I literally mean Coffin nails. Cautiously cut and shape your nails, then apply a coat of matte black nail paint. Let it dry for a while, then make accents and lines with gold or any other nail color. Lastly, apply a clear topcoat for the final finish.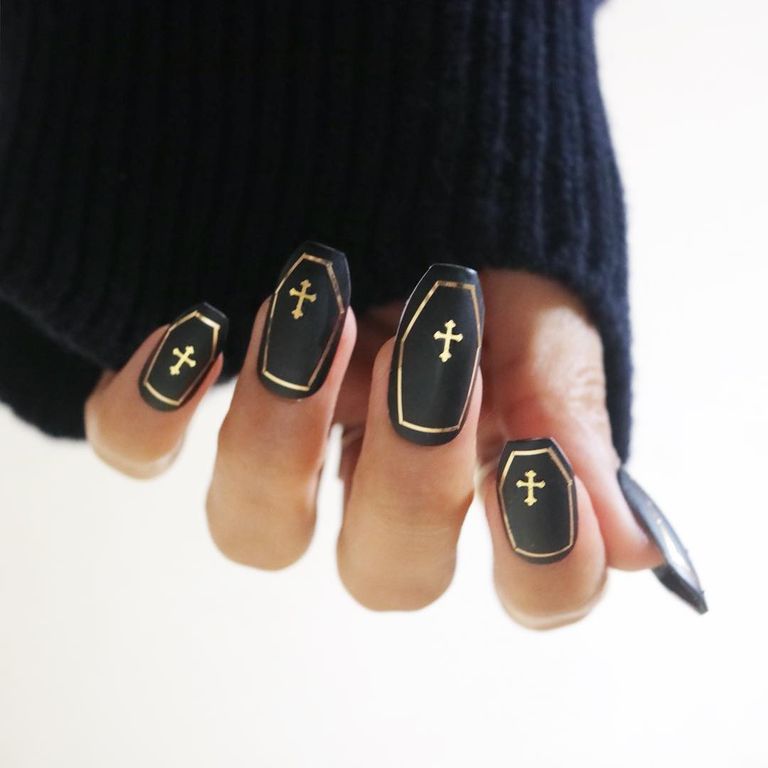 Chic Candy Corn Nails
Candy corn is a super easy and simple manicure for Halloween. Make Halloween's traditional Candy corn a fashion in itself this holiday or winter fall season. Arrange candy corn theme nail colors. Apply abstract lines or any graphic shape for a chic and festive manicure. And don't forget to apply the topcoat to finish it off.

Haunted Half Moons Manicure
Turn your half moon nails into spooky haunted half moons by adding (use ballpoint nail tool or a toothpick) little twists with scary ghost faces.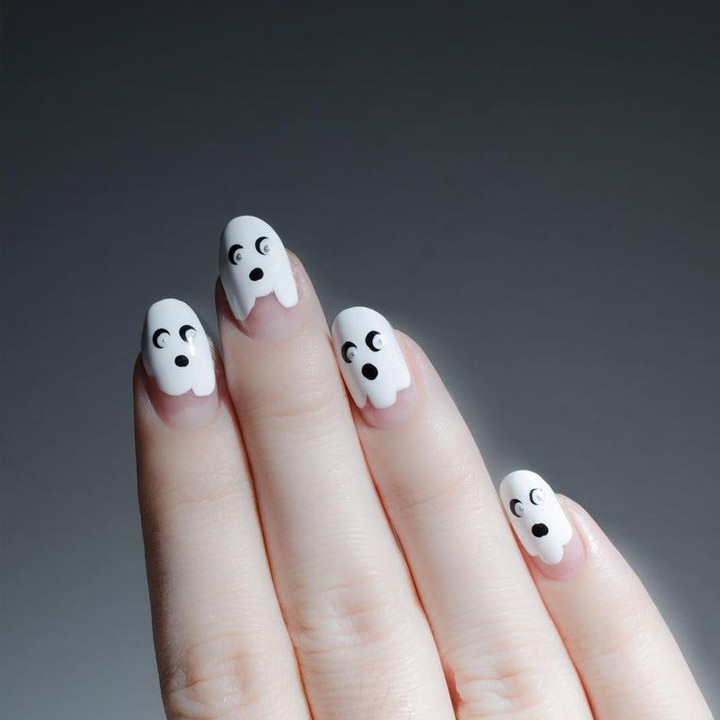 Scary Spooky Skeleton Nails
If you need fun spooky nails then what's best creating a different spooky skeleton, weird aliens, or scary nail design for each finger. Have look at these endless possibilities.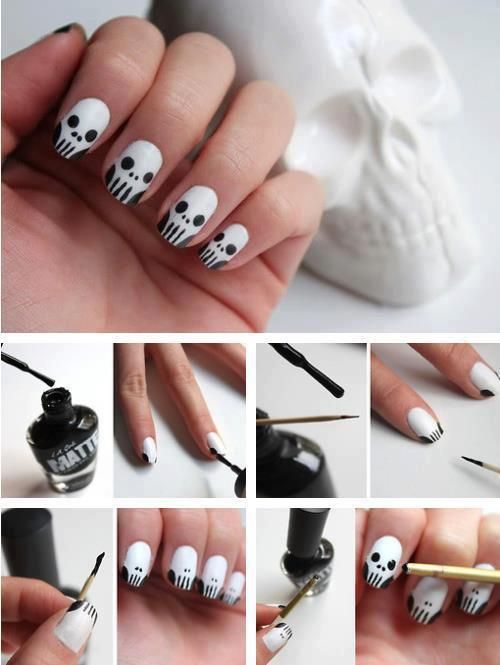 Cherry Skull Nails
Turn your French-tipped nails into scary Halloween nails by making tiny black cherry skulls to get a perfect Halloween manicure.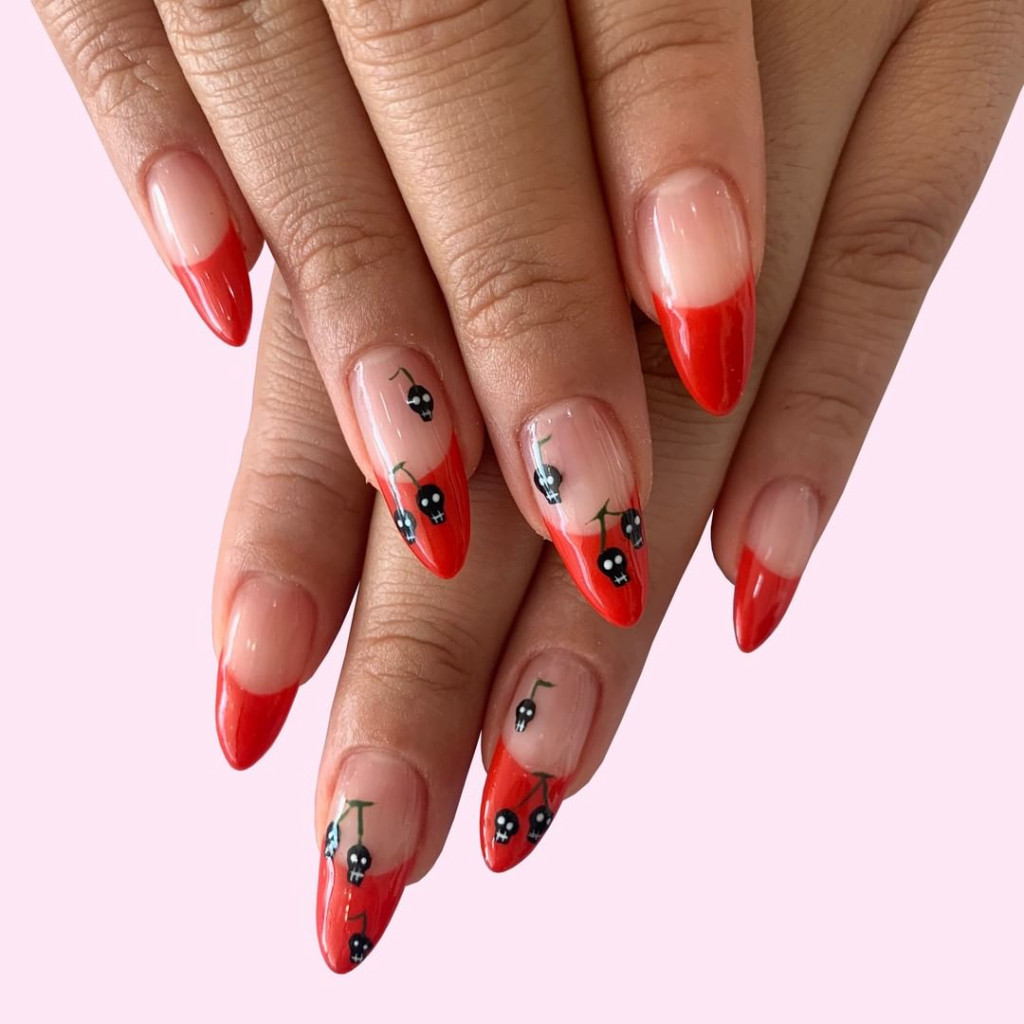 Blood Drip Nails
Last year Kylie Jenner brought the dripping nail art trend back to life. For the spooky look, you just need to apply blood-red accents on a white nail paint base.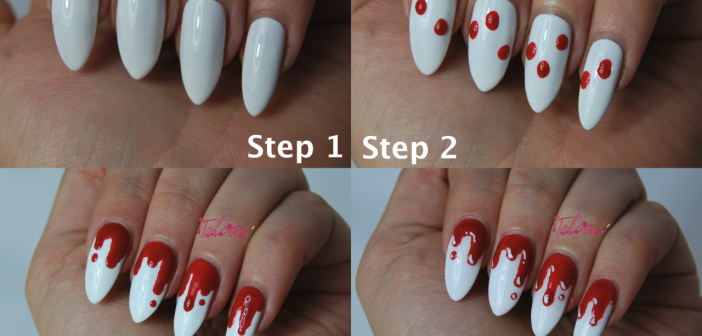 Bloody Vampire Nails
To create a horrific scene with any shade of red, draw unique designs on transparent nail extension that look like exactly dispersing blood. For painting bloody nails apply any blood-colored nail paint on a sponge and paste randomly on your nails.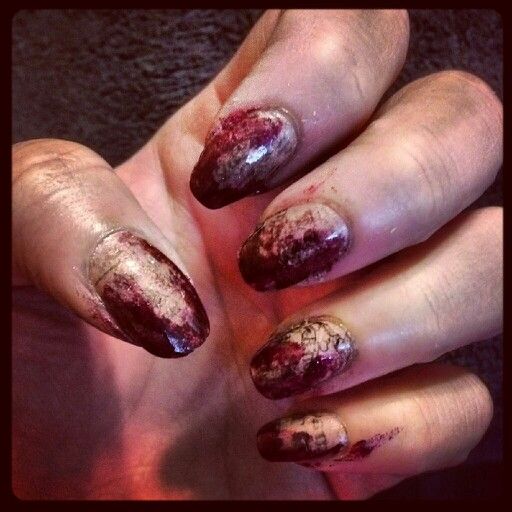 Shimmery Spider web Nail Art
French tipped nails have been the top nail art trend this year 2020. So you can combine your French tipped manicure with traditional spider webs for a twisted look.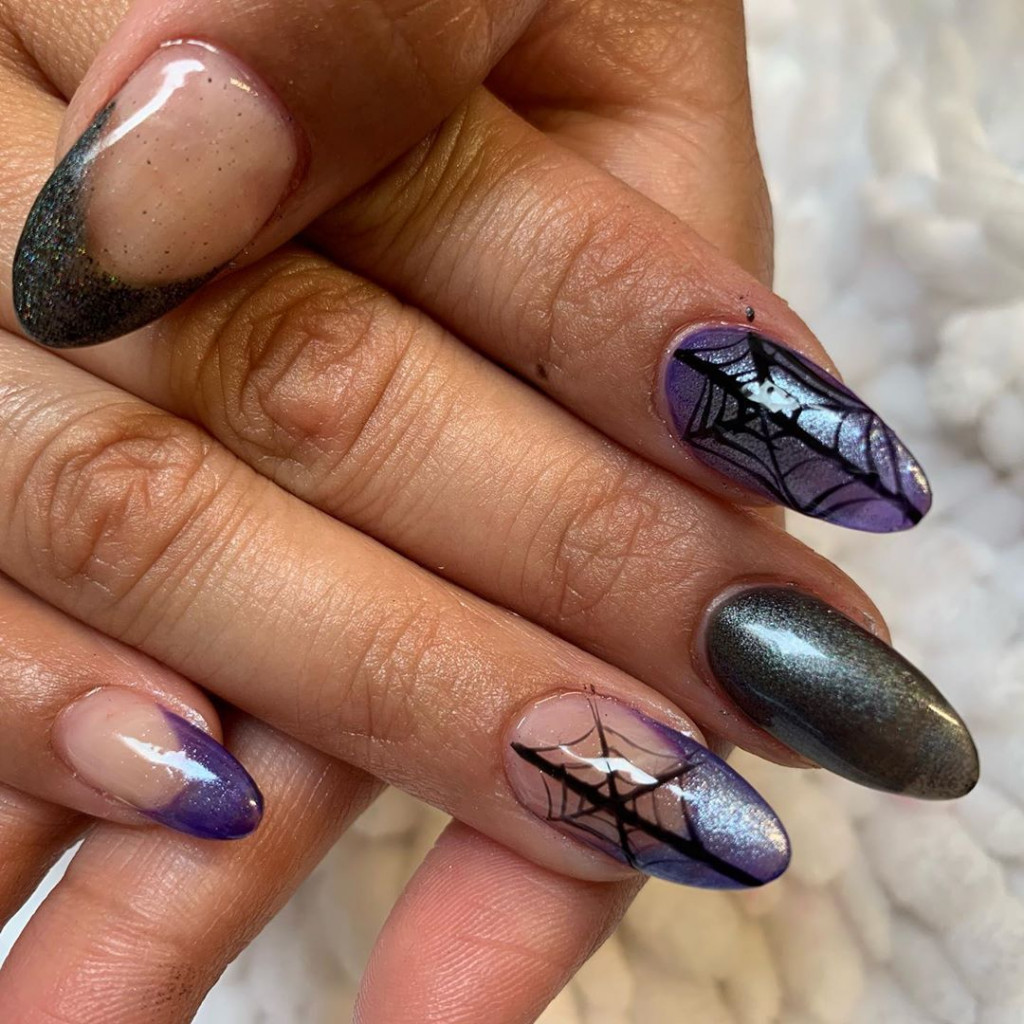 Black Spider web Manicure
Pumpkin oranges, reds, and purples are usually linked with Halloween celebrations. These colors might seem too lively for various people. This simple nail art with an all-black design would be best to keep things dark, fun, and scary with peeking out spider webs.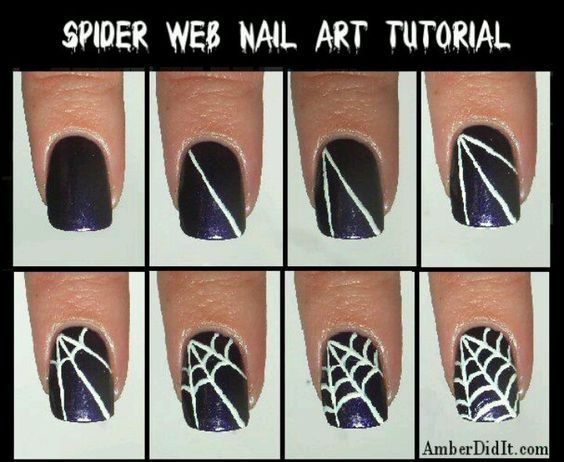 Pumpkin Nail Art Design
Make your traditional nail tips more festive with hand-painted pumpkin shapes on a beige base coat. Though this nail art design is not very scary it works well for Halloween, Winter/Fall, and Thanksgiving festivities. For an at-home cute pumpkin, nail art tutorial, see the image below.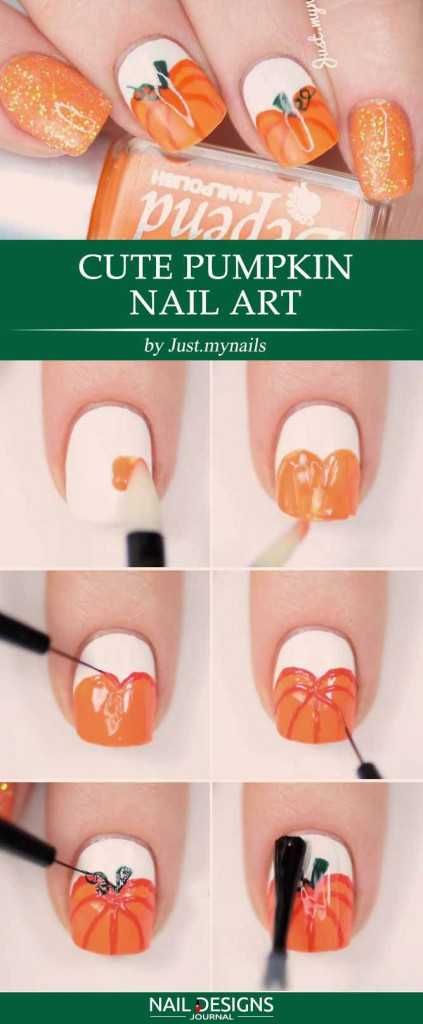 Spooky Skull Nails
Skull nail design is a minimalist yet impressively detailed nail trend for Halloween. Make skulls of any shape on transparent or white painted nails for incredibly stunning nails. This easy DIY skull nail art tutorial might help you.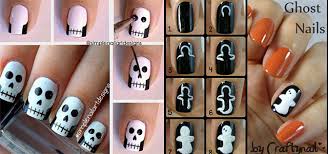 Pumpkin Spice Nails
Paint your nails with a pumpkin orange basecoat and add studs or other nail accessories of your own choice make it more realistic for Halloween.