Top 5 Fall Sweater Trends for 2020 Are Here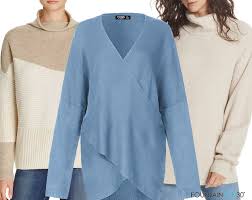 Who doesn't want to snuggle up in a cute and cozy sweater when winter/fall is just around the corner? Probably you are here to have a look at fall sweater trends 2020, before updating your wardrobe this year. If yes, you're at the right destination. Spring and summer seasons always bring floral tops, crop tops, and breezy blouses, but fall is one of those seasons when all my beloved attires get a chance to shine with a full glow. And when it's the holiday season I just want to say a big thanks to the comfy and cute fall sweater trends for 2020. So it's time to update your winter wardrobe with the comfy knit cardigans and pullovers to shine in on dark days of the fall season. For all those women and girls who love cozy sweaters as I do, I am sure you would also fall in love with all the trendy sweaters for 2020.
Fall sweaters are truthfully the zenith of knit fashion trends. When the cold weather takes over, there's nothing like covering yourself up in a cozy cardigan or sweater. A denim or leather jacket can also keep you a bit warm and save you from shivering on fall nights, but they're not that soft like fall knits. You can say, a cozy sweater gives a feel of a wearable blanket, and I would love to wear a comfy cute sweater as outerwear for those cold days (definitely you can layer them as well).
If you're also enamored with all things fall sweaters keep reading for all the fall sweater trends I'm already obsessed with. From new takes on classic styles to a Taylor Swift-inspired silhouette, these trends are here to make your fall the coziest it can be. Excuse me while I shop every single one of these trends while binging Halloween movies.
At FASHIONGLINT, we aspire to bring style to the people, and we only share and feature those products that you'll like, as we do.
Note: This post contains no affiliate link in it. All the items shared in this article, are the editor's picks.
These fall sweaters are not only seriously cute, but they're super practical, as well.
Let's get warm in snuggly sweaters!
Puffed Sleeve Pullover Tops
2020 was all about puffed sleeves, and this trend is going to continue this winter fall too. You would observe the latest puffy sleeve sweater trend at each retailer this fall. This trend accentuates all those simple turtlenecks by adding a statement sleeves style for a more put-together look.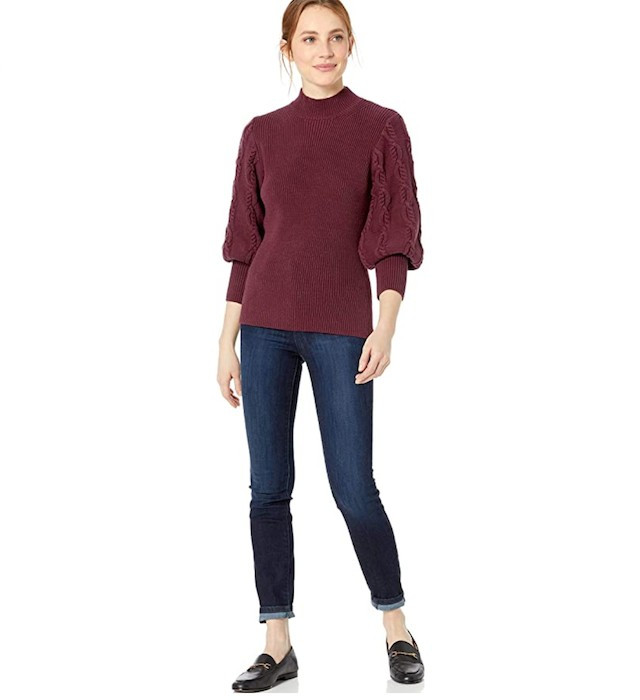 Aubergine is a perfect hue for fall, and this pullover with striking puff sleeves is sure to make the best fit with classic blue jeans and black loafers.
Brand name: Cable Stitch
Ribbed Aubergine Sweater for Women
Price: $59.50
Buy it: From Amazon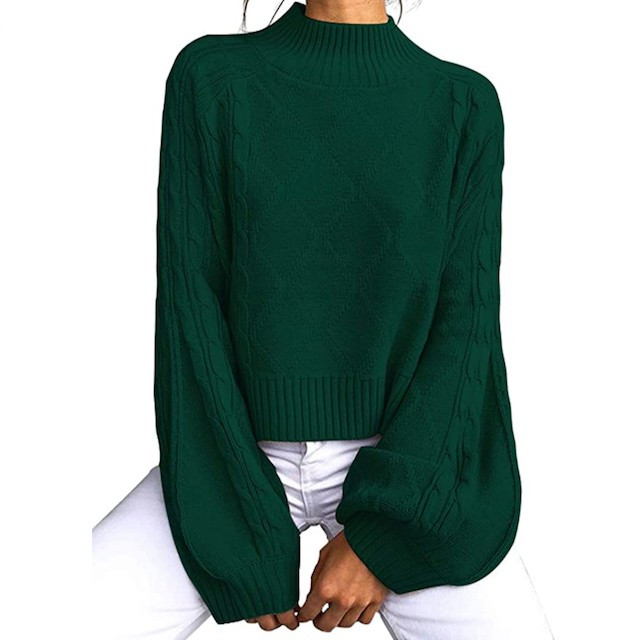 For a more trendy touch, this emerald mock cable knit sweater with lantern sleeves can add a hint of style to your winter fall wardrobe this year.
Brand name: Choices
Emerald Mock Turtleneck Sweater- pullover top for Women
Price: $29.99
Buy it: From Amazon
Vintage Argyle Sweater
Vintage argyle patterned sweaters are making a huge come back this season combined with other major trends like puffed sleeves and winter fall colors for so that you can make the vintage style statement in the festive season.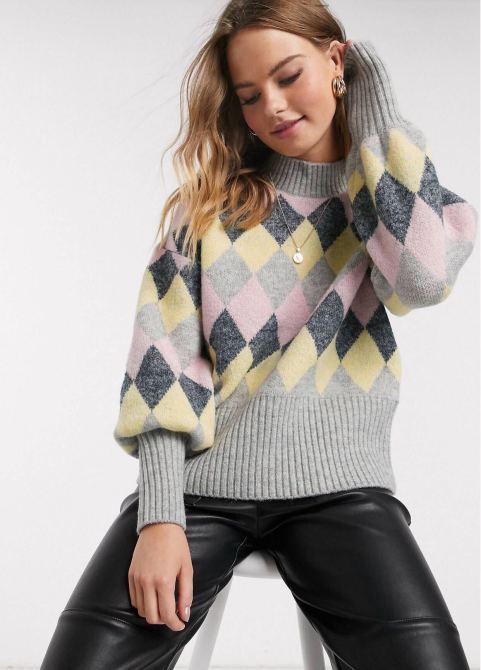 For adding a fall 2020 flare to your wardrobe, this classic argyle sweater in pastel hues with puffy sleeves and oversized fit is a must-have.
Brand name: Y.A.S.
High Neck Argyle Sweater
Price: $61
Buy it: From Amazon
This argyle top with red, navy blue and white patterns are best for less cold winter days or you can style it with a statement fall coat or blazer.
Product: Amazon Essentials Argyle Sweater
Price: $24
Buy it: From Amazon
Classic Plaid Sweaters
Want to give some oomph to your winter fall style while staying cozy? YES? Plaid has always been a typical pattern for fall sweaters for ages and it's staying this year too. At each retailer shop, you will see various fashionable reiterations of traditional plaids on the warm cardigan.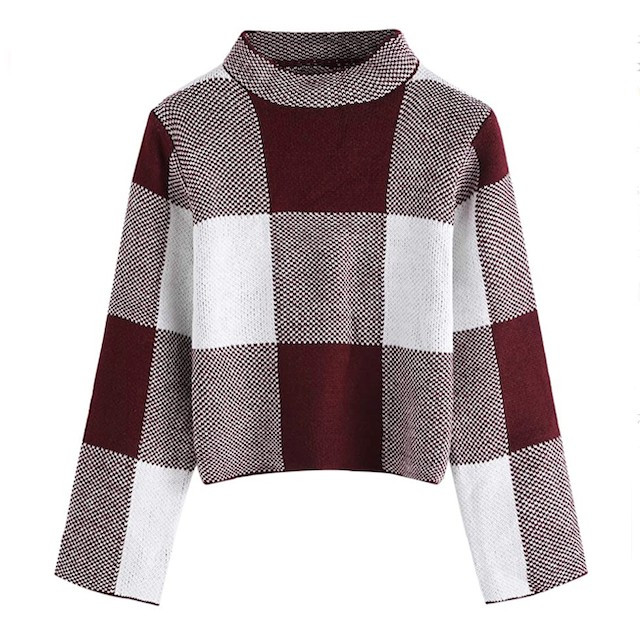 When it comes to style a plaid sweater there are lots of ways to do it, from pairing it with a classy skirt to classic denim.
Brand name: Floerns
Product: Floerns Women's Long Sleeve sweater
Price: $26.99
Buy it: From Amazon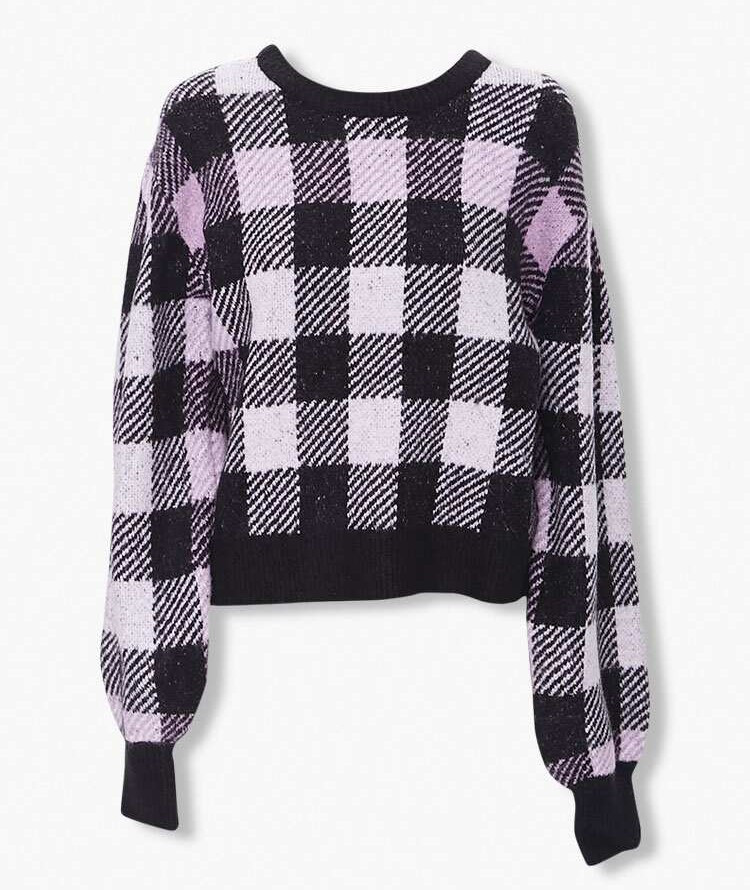 Pair this faded white and pink slouchy plaid sweater (with balloon sleeves) with your favorite jeans for all day long fall look.
Brand name: Forever21
Product: Plaid Sweater
Price: $22.99
Buy it: From Amazon
Chunky Dad Sweaters
Take some inspiration from Taylor Swift and the attires she bragged about in her latest album (Folklore), I mean chunky dad and cable knit tops and sweaters would be seen everywhere in fall 2020. For making your fall season coziest, what would be better than a chunky dad or a cable knit sweater? Chunky dad sweaters are going to be the biggest trend this fall.
This cable knit classic neutral cardigan is a must-have fall wardrobe staple to boast like Taylor Swift and feel warm at the same time.
Brand name: Boohoo
Product: Boyfriend Button Up Cardigan
Price: $50
Buy it: From Amazon
If you need something like a feminine cardigan to keep you warm AF, go for this light pink textured women cardigan to get the winter look with a textured twist.
Brand name: ModCloth
Product: Textured Touch Cardigan
Price: $49.99
Buy it: From Amazon
Color Block Sweaters
Like many other vintage trends, color blocking is making a major comeback for the year 2020. Hence this color block trend is no different for the cutest sweaters for women and men this year. When it comes to shopping for winter fall sweaters, of course, you can go for fun winter fall colors or pastels or neutrals (evergreen colors).
Here are my takes on this trend and I am sure you will love them too. Well, let me know in the comments if you love or like them.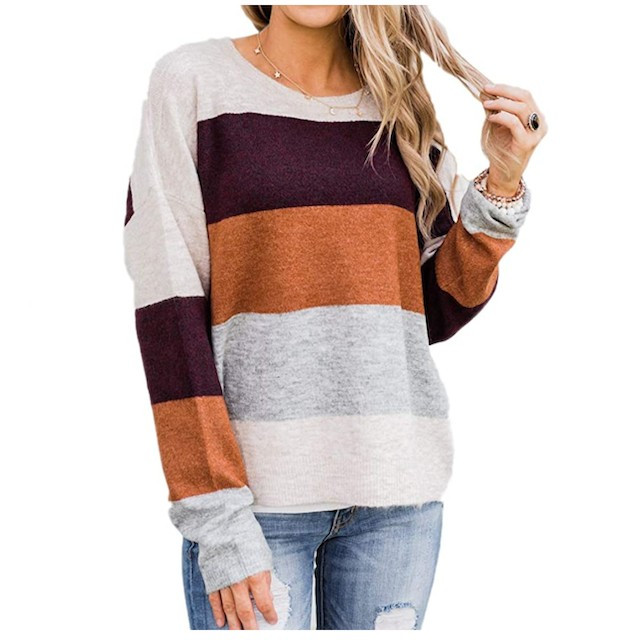 This crew neck soft knitted casual pullover top by MILLCHIC is the perfect choice for fall if you want a color block sweater in your wardrobe. This trendy pullover top is practically screaming fall with its orange and burgundy colors in addition to big sleeves.
Brand name: MILLCHIC
Product: Women's Color Block Striped Sweater
Price: $29.99
Buy it: From Amazon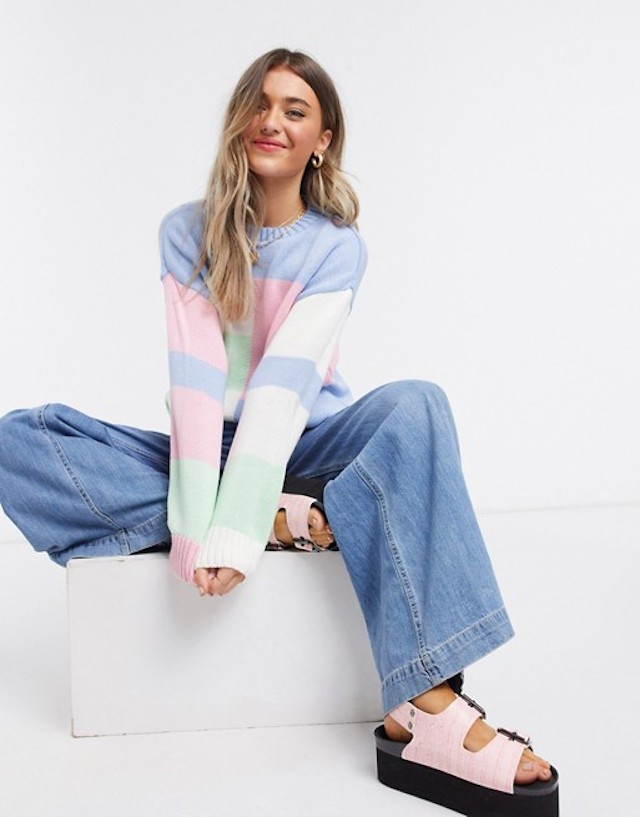 Make the cold dark days, bright and fun with this pastel pink color-blocked winter fall top for women.
Brand name: ASOS
Product: ASOS color block sweater
Price: $45
Buy it: From Amazon