How I Use 4 Quick Microwave Cleaning Hacks
This post is all about quick microwave cleaning hack that can save your time and money. Most of us don't like much to clean microwave and leave it as it is but maintaining a cleaning routine is necessary for health of your loved ones because we use microwave all the day for heating food. Just with little care you can save your microwave bacteria free and neat therefore follow these quick microwave cleaning tips With these cheap microwave cleaning hack you can clean inside of your microwave in no time and it will also deodorize the microwave.
This post features;
Microwave cleaning hack with lemon and vinegar
Cleaning microwave using baking soda
Cleaning microwave using  dish wash soap
Microwave cleaning hack using water
Clean Microwave with Lemon
This is the simplest tip to get sparkly microwave within 10 minutes. Lemon is a powerful natural detergent that removes stubborn stains and yes you can use this for microwave cleaning.
Key steps;
Squeeze one lemon in half cup of water and put it in the microwave until the water boils.
Take out the microwave plate, wash it with dishwashing soap and let it dry.
Take sponge or clean towel damp it in the lemon water and scrub gently inside the microwave.
Lastly use another clean cloth to dry the microwave.
You can repeat the same procedure with vinegar instead of lemon because vinegar also work the same way as lemon.

Cleaning Microwave with Baking Soda
This another effective microwave cleaning hack that you can do within the comfort of your home. To remove splatters and tough stains use this tip.
Key Steps;
Take desired amount of baking soda and mix it with vinegar to form thick paste.
Apply this mixture inside the microwave especially on stains and rub gently.
Let this paste stay for 10 minutes.
Now clean the microwave using towel or cloth.
Enjoy shine and germs free microwave.

Microwave Cleaning with Water
This the simplest way to get a neat microwave, for this follow the instructions below.
Key steps;
Take half bowl of water and put it in the microwave until it boils.
Let the bowl inside for 5 minutes so that steam can remove splatters.
Use damp cloth and rub it inside the microwave, use another towel or cloth to dry the micro and don't forget to clean the inside and outside of the door as well.
Takeout the plate and wash it with dishwashing soap, let it dry and place back in the microwave.
Microwave Cleaning Using Dishwash
Key steps;
Take a half bowl of water add desired amount of dishwashing soap in it. Place the bowl in in the microwave until the mixture boils.
Damp a cloth in this mixture and clean the interior of the microwave with it.
Clean the plate with the using method described above.
Use a clean cloth to dry the micro and have sparkly microwave.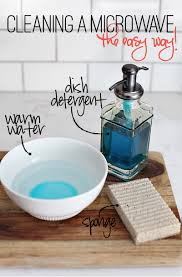 Which tips do you use to best clean your microwave? share it with us via the comment section below.
If you like the post follow me on Facebook, Instagram, Twitter, Pinterest and Google plus to get more updates or join our mailing list and share it with your friends and loved ones.
Also check out;