Pakistani Bridal Makeup Tips & Tricks to Look Gorgeous
Pakistani bridal is always seen in traditional wedding dress on her big day, and this traditional look is incomplete without Pakistani bridal makeup. Therefore this article feature Pakistani bridal makeup tips & tricks to look gorgeous on your special day.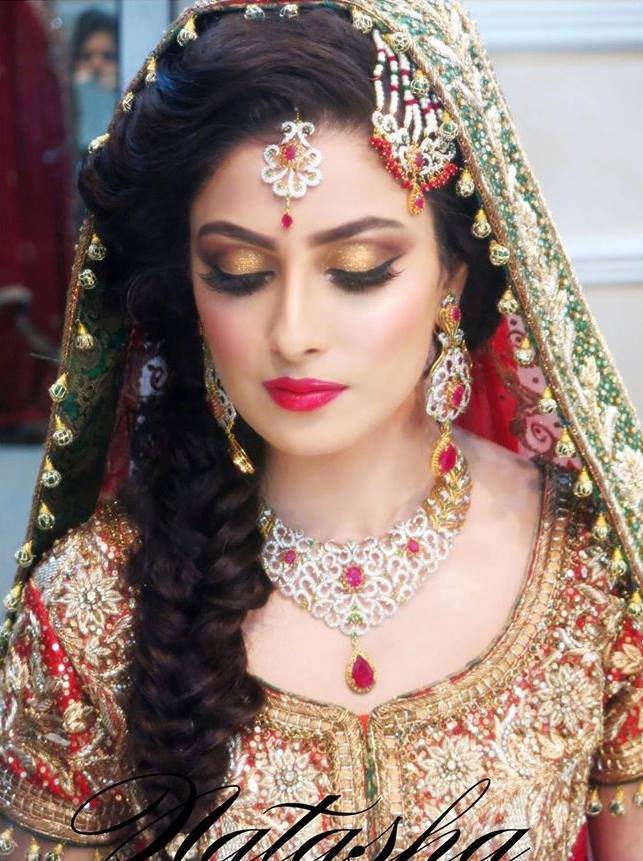 I know this post would take only 3 minutes to read but can save you from lots of stress so let's start. To look beautiful on wedding day is a great challenge because of the stress of coming life. If you have arranged an appointment with a makeup artist for wedding makeup or planning to do makeover yourself these bridal makeup tips would be beneficial for you to stay fresh all the long wedding day.
Pakistani Bridal Makeup Tips & Tricks
Find here wedding make up tips and tricks I am sure these tips would help you to stay gorgeous not for wedding day but also for party makeup and day to day casual makeup.
1. Must Follow Skin Preparation Steps
Must add on skin preparation steps that includes foundation primer and eye shadow base. We use to skip these basic steps but at least do not avoid these steps for wedding day make up and after wedding parties. Skin preparation products help to decrease appearance of pores and fine lines and reduces chances of acne because of makeup allergy. This basic step will also give you smooth base for photo ready face to make your special day even more special.
2. Make Face T-Zone Oil Free
Keep your forehead, nose, and chin matte by using translucent powder. Keep with you blotting papers in your hand bag to remove excess oil when it appears after makeup. But do not use it on your cheek we do not mean here to mess your make up use it with caution to stay photo ready.
3. Pay Attention to Eye Brow
Nicely done brow gives a polished make up looks to the bride, therefore consult a professional brow artist to have well groomed brow shape. On your wedding day fill your brows with powder in one tone lighter than your actual brow color. Don't use brow pencil it gives harsh look instead of giving finished make up looks. For Pakistani bridal make up ideas 2017 2018 checkout the link below
 4. Do not Use Regular Lipstick
Use lip stains or pigmented lip colors that stay put for long hours. Regular lipstick comes off every time you drink something or even when you meet some one to receive greetings. Ask your beautician to apply lip color that stays put for longer day to avoid all the mess.
5. Don't Forget to Remove Makeup
When you done with wedding day don't forget to remove your makeup. For this purpose use any good quality makeup remover or makeup removing wipes, these are easily available in Pakistan. For after wedding parties newly married bride have to put on lots of make up that makes skin dull for this you need to maintain a skin routine if you don't want to use cosmetics you can simply go for DIY face scrubs.
For more Pakistani bridal make up tips and tricks stay tune to www.fashionglint.com because in future I would keep on adding some more tips to this post. If you like the post share it with friends and follow me on social media. For more make up tips in urdu click the link below;