Latest Saree Designs 2017 for Pakistani & Indian Girls
Today's post features latest designer saree designs 2017 for Pakistani & Indian Girls/women because saree takes you to the next level in terms of style yet it's considered traditional attire. Therefore in this post you would explore designer saree designs for parties, weddings, festivals and special events. When women have to attend any event they are always stressed about what to wear? answer is very simple go for saree because it will make you look unique effortlessly.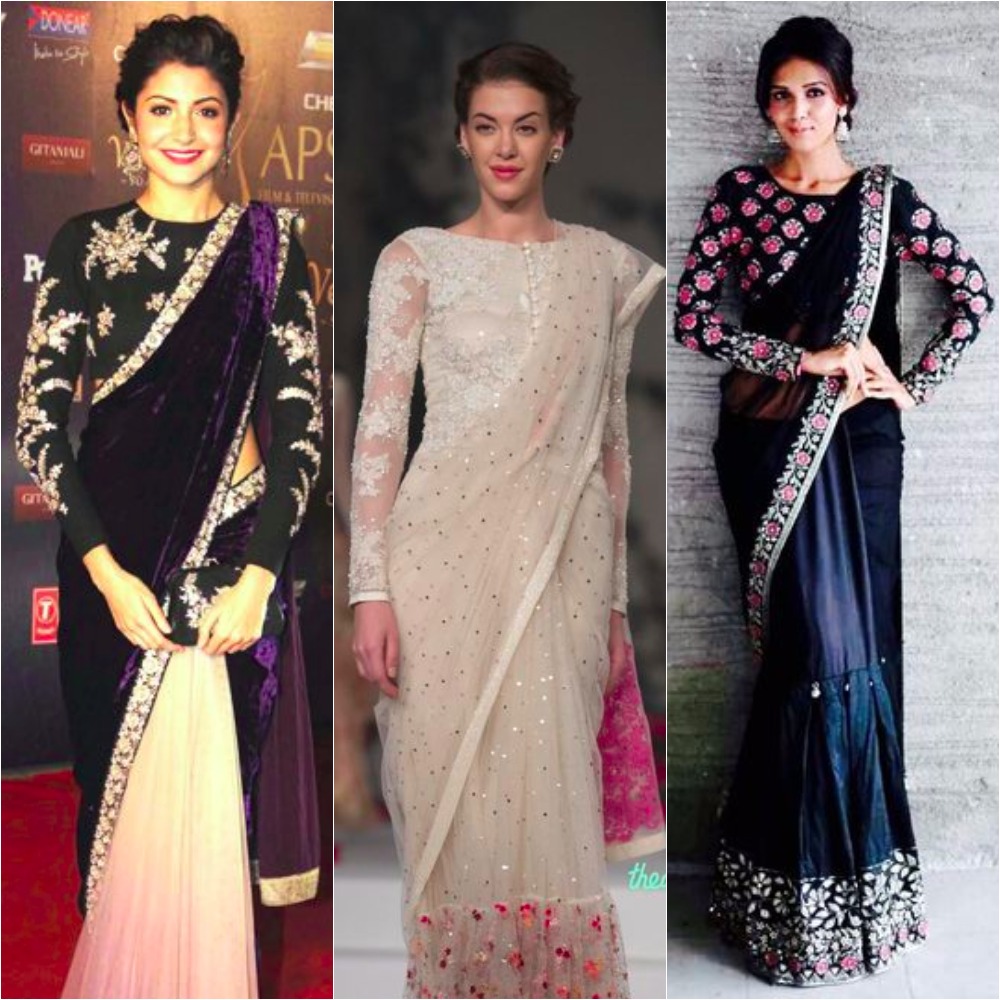 In this post I have shared top Pakistani and Indian designer saree collections 2017 for party, night gatherings, weddings and even for college farewell. Saree is an old Indo-Pak traditional dress but it's charm is still alive you will never be wrong if you choose to wear saree for any event. So find in this article new saree designs 2017 to make style statement at any event.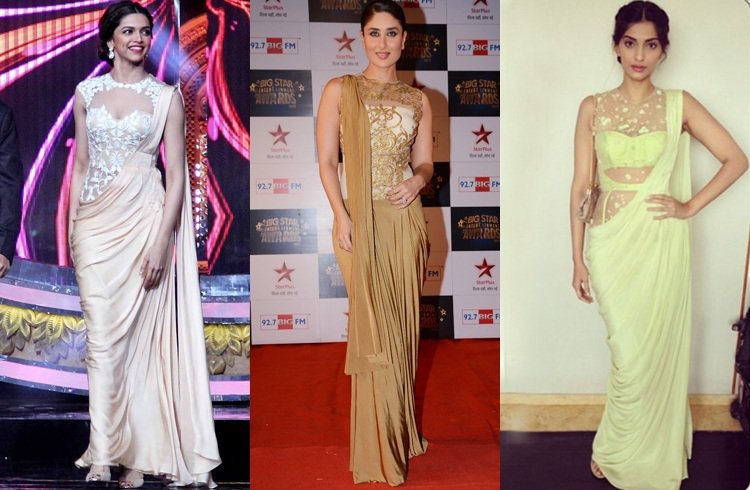 Latest Pakistani Bridal Dresses
Pakistani Lehenga Choli Designs
How to wear Saree in Different Styles
Previously wearing saree was quiet simple in traditional way, but now a days this trend has been changed saree designers has introduced contemporary saree styles that give modern and sexy makeover to saree. Wearing saree is no less than a n art choose a right blouse be it short or long according to your body type, you yourself have to figure it out which style suits you most. And wearing saree elegantly is no doubt difficult task if you are beginner but do not you worry by watching video tutorial that is about 5 Gorgeous Ways to Wear Saree for Party like a Bollywood Celebrity|Saree Draping Styles To Look Slim you could practice twice or thrice and you will be master of it before the actual event arrive, remember key is little practice.Here I listed most popular saree wearing styles.
Bengali style saree
Rajistatni saree style
Maharashtrain saree wearing style
Butterfly saree draping style
Lehenga saree wrapping style
Gujarati saree wearing style
Gown style saree
Pakistani & Indian Most Popular Saree Designers
Pakistani and Indian fashion designing industry has produced various commendable designers that are known internationally. Here I have listed top Pakistani and Indian saree designers.
Pakistani saree designers
Teena Durani
Ivy prints
Suffuse by Sana Yasir
Zainab Chottani
Elan
HSY
Depak Perwani
Maria B
Indian saree designers
Manish Malhotra
Tarun Tahiliani
JJ Valaya
Rina Dhaka
Manish Arora
Rohit Bal
Rito Beri
Sabyasachi Mukherje
Abu Jani and Sandeep Khosla
Best Saree Designs 2017 for Party Wear & Weddings
Here you will find new saree designs 2017 by top Pakistani and Indian saree designers for parties, weddings and get togethers. You will look ravishing in sarees I am showing below if you like the new saree collection 2017 please let us know about your favorite saree in the comment section below.
1. Grey Maria B Saree 2017
This grey Maria B saree from her latest MBROIDERED collection 2017 is swooning. This embroidered saree is perfect for formal parties and wedding events. This unstitched chiffon saree worth for 19,500 PKR. To add more glam tweak it with gorgeous side bun and high heels.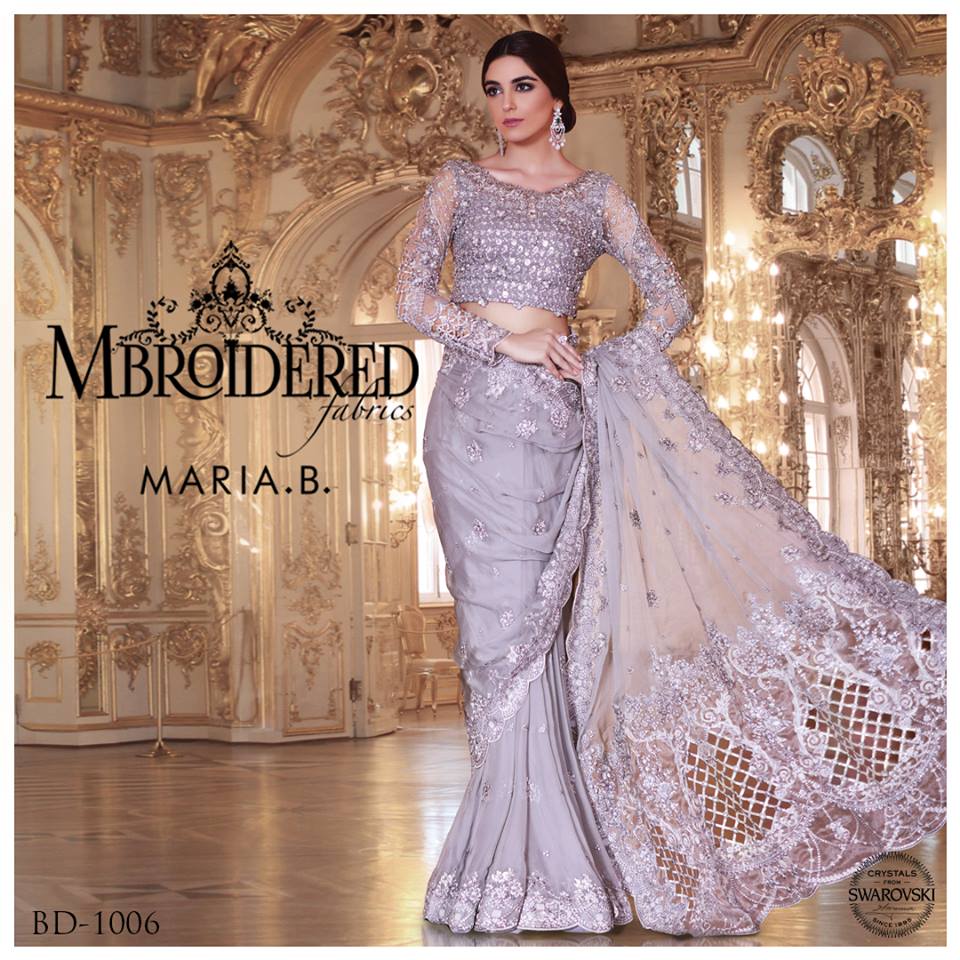 2. Teena Durani Sari 2017
I have picked three saree designs, off white embellished saree(it costs 1,00000 PKR), Peach embellished saree (it's price is 1,00000 PKR) and pink embroidered saree (it's worth is 75,000 PKR) from her latest bridal wear collection that are super gorgeous for wedding and formal events.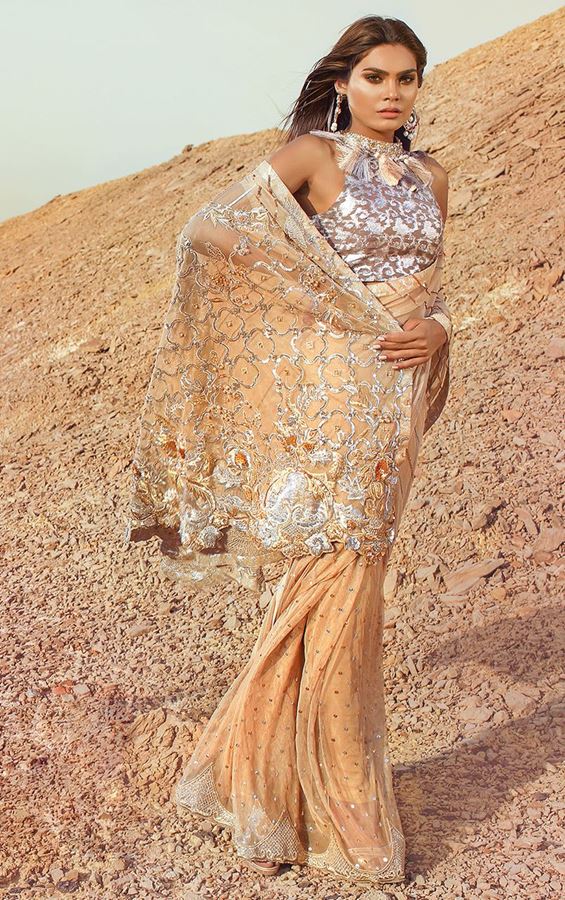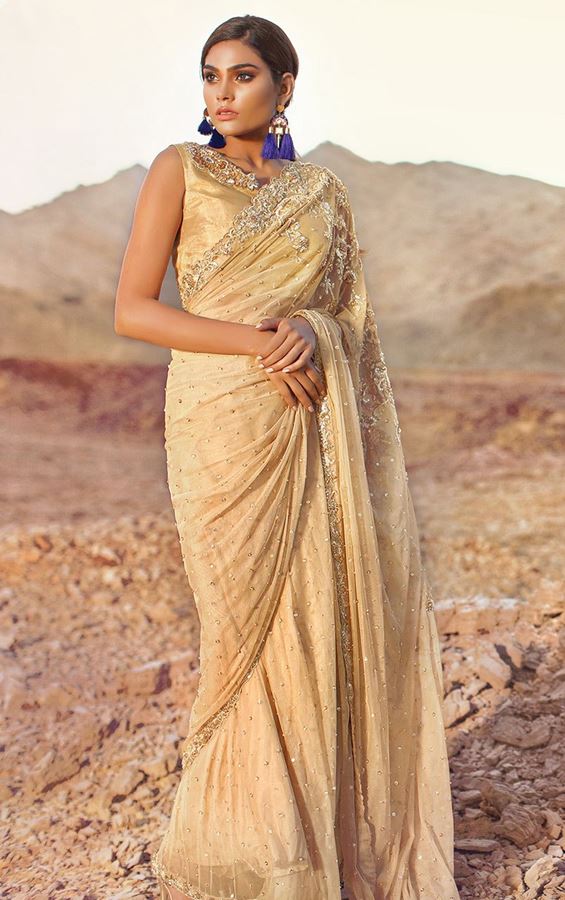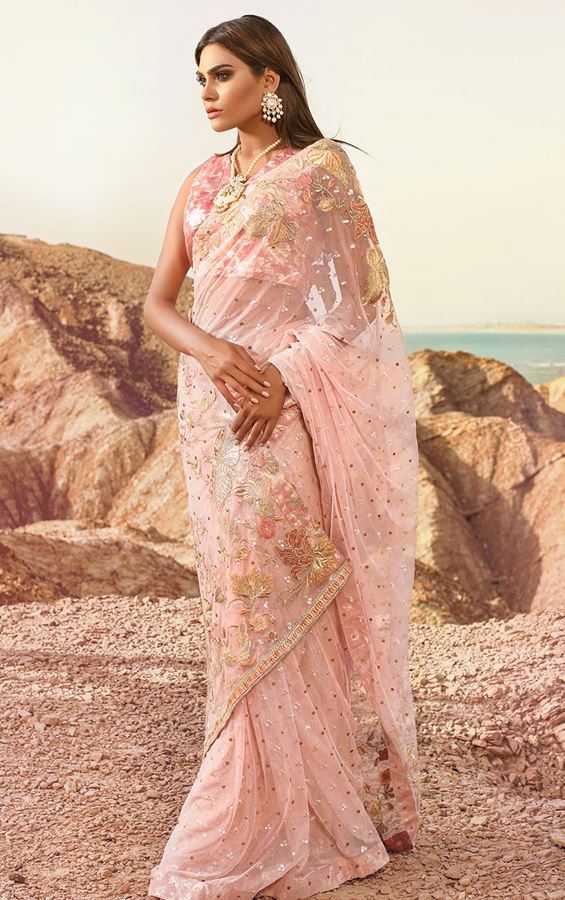 3. Manish Malhotra Saree designs
Manish Malhotra is most popular Indian saree designer. Manish is not only famous Bollywood costume designer but also recognized internationally. You can explore Manish Malhotra best saree design images here. Also see how to make Kareena Kapoor inspired hairstyles.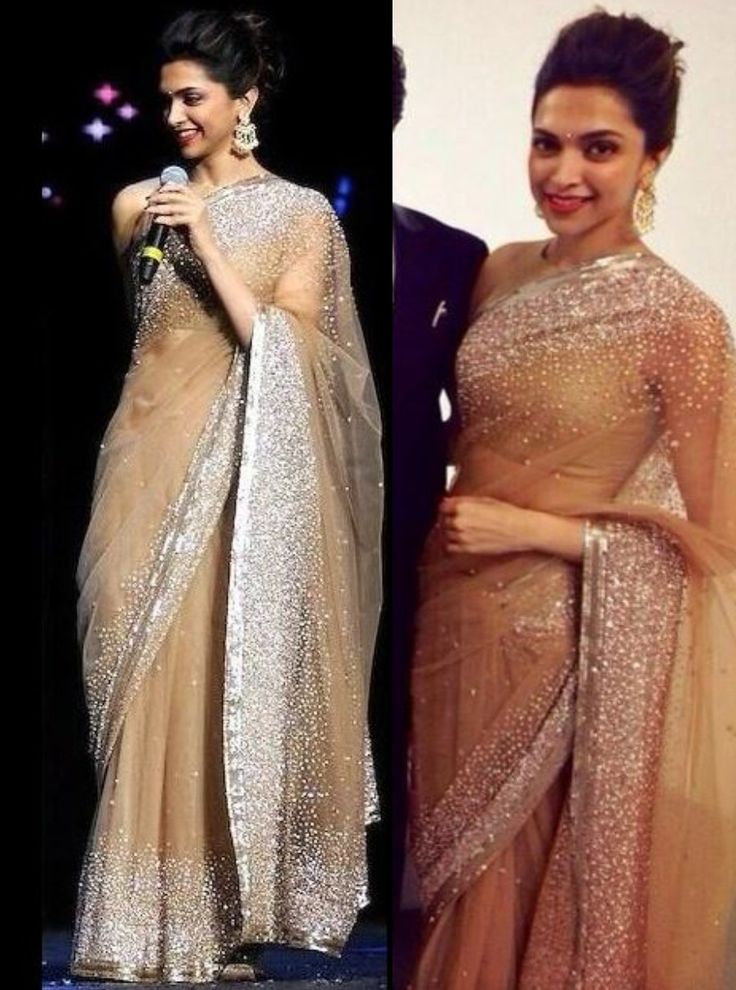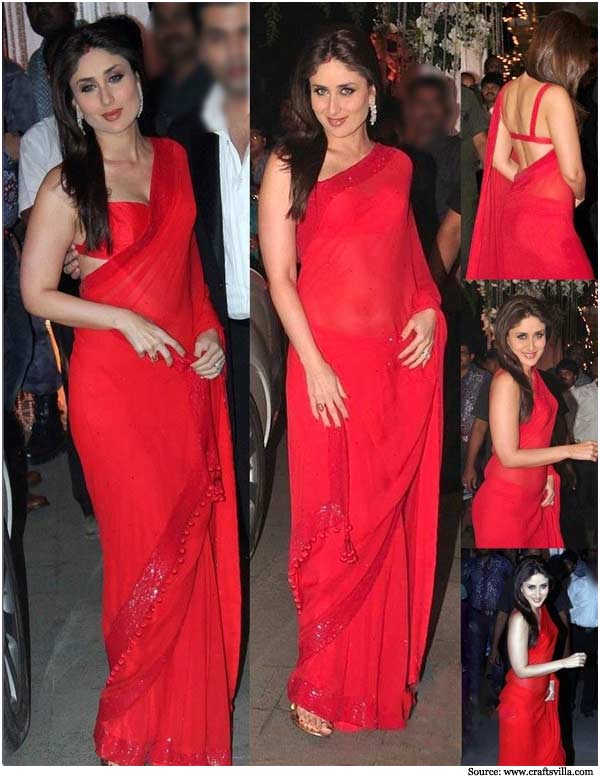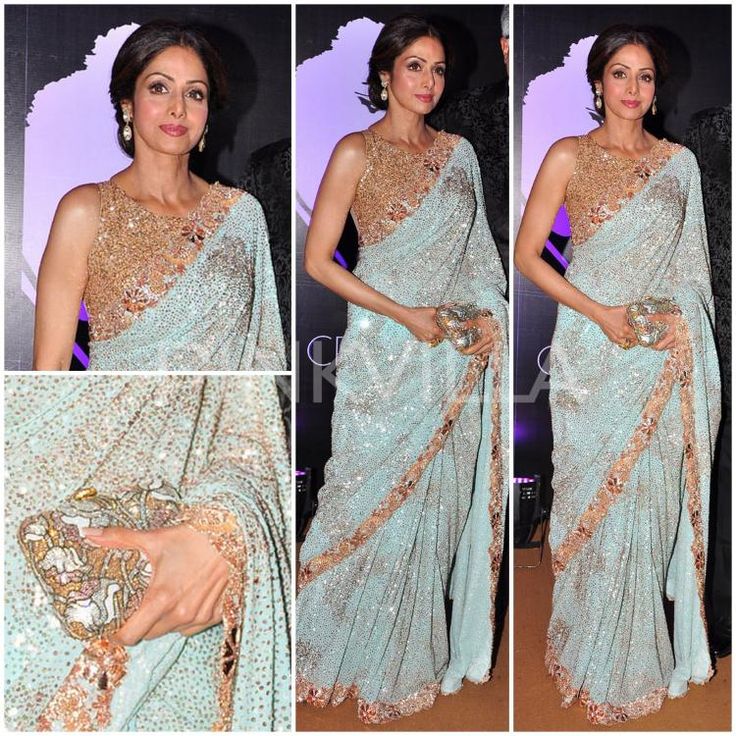 4. Sabyasachi Mukherje Saree Designs
Sabyasachi a praiseworthy hand weaved saree brand in India. Almost all leading Bollywood actress such as Deepika Paducon, Anushka Sharma and others have been spotted wearing Sabyasachi sarees at award show and different events. See how to make Deepika Paducon inspired hairstyles.