Easy White Henna Designs 2020 for Every Occasion
This article features easy white henna designs images and video tutorials weddings, Eid and Christmas celebrations with a special guide about how to make white henna cones at home. White henna art is a contemporary body decorating trend like traditional mehndi designing. You might have seen many white henna designing pictures on Instagram and Pinterest like me so I thought to write a post about easy white henna designs 2020 for every occasion. Adoring hands, arm, and feet is common in Asian, Arabic and Muslim countries and nowadays around the whole world women love to use henna to decorate body parts with henna tattoos and different mehndi designs. These days white henna is also available as a substitute for traditional mehndi that could be used for weddings, eid and even for parties to embellish hands, feet, arms, shoulder or other parts of the body. In Pakistan, white mehndi cones are not yet available to solve this problem I am sharing how to make white henna at home so you can have white mehndi for adorning hands and other parts of body.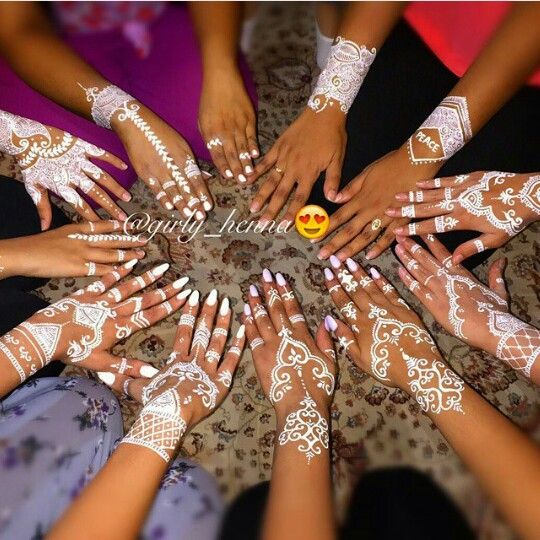 As white henna is the cosmetic product it lasts for 24 hours if waterproof ingredients are used to make white mehndi and leaves no stain after peeling, unlike traditional natural mehndi that leaves reddish-brown stain for weeks. White henna is could be used if you do not want to paint body in a traditional way. Let your imagination follow this latest white mehndi trend to look stunning at any party, eid festival or wedding.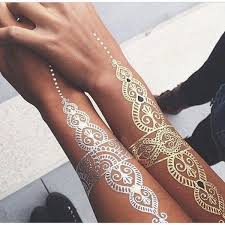 How To Make White Henna?
Unlike traditional mehndi that is prepared by mixing grounded henna plant leaves with water, white henna is produced by mica and cosmetic adhesive that is filled into the cone to make a white henna cone. Making white henna at home is super easy and inexpensive I learned to make white henna from a youtube channel that I shared for all of you. Ingredients required to make white henna DIY:
Large zip lock bag
Scissors
Tape
White body paint (use waterproof)
Cream adhesive (use waterproof)
Mixing bowl
Spoon
How to make white henna? Cut the zip lock bag and roll it along to make a cone and seal it with scotch tape to avoid leakage. For making white henna add two tablespoons of cream adhesive and one tablespoon of white body paint, mix it well fill it in the cone and tape it well. Now white henna cone is ready to adore body parts. Remember white henna cone lasts for three to four days. For making easy white henna DIY  with only two ingredients watch the video tutorial by Abeerie. Also, check out, Simple Arabic Mehndi Designs Step by Step and Gol Tikki Mehndi Designs.
Easy White Mehndi Designs 2020 Images & Tutorials
White mehndi looks gorgeous on tan skin and is just perfect for every occasion. In the west, bridals love to apply white henna to match it with bridal dress to get striking looks. Here you will find beautiful white mehndi henna designs to look perfect for any occasion. Pattern drawn using white mehndi is the same as with traditional mehndi so if you can apply mehndi that it's quite easy to apply white mehndi because the basic it is also in cone form and basic henna application techniques are same.
White henna designs for weddings: If you do not want to look traditional instead of wanting to achieve contemporary bridal looks than white henna designing is the rightest way to adore hands, arms, feet, shoulder neck. Watch here a video tutorial and pictures about bridal white henna mehndi design video tutorial. Also, see wedding nail art designs for brides.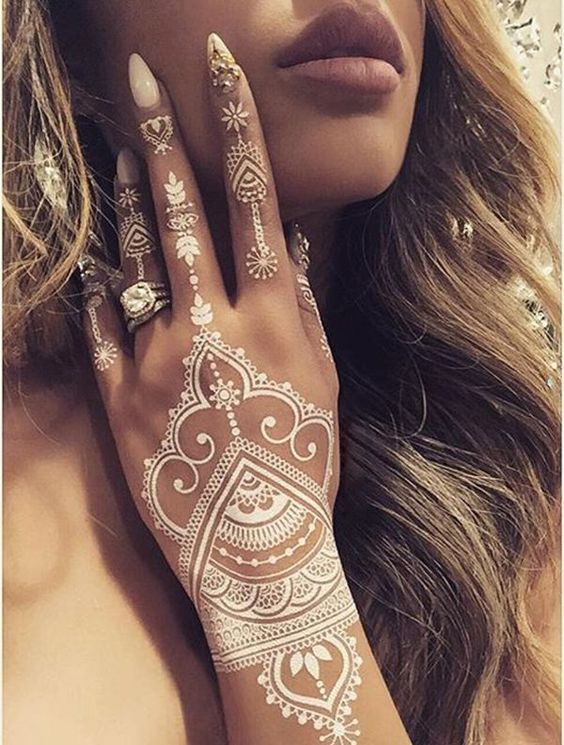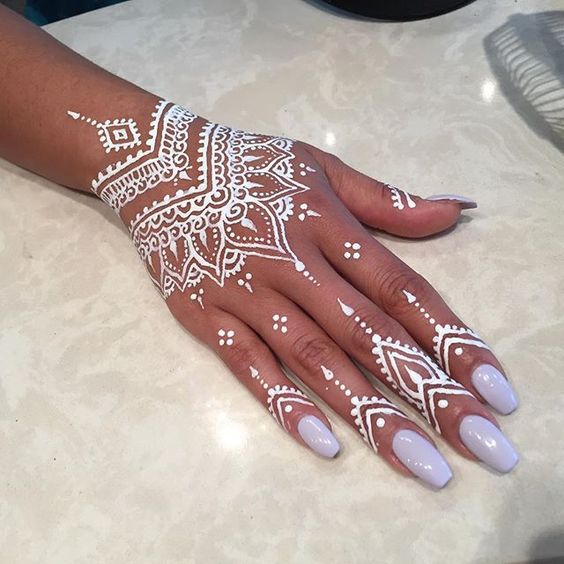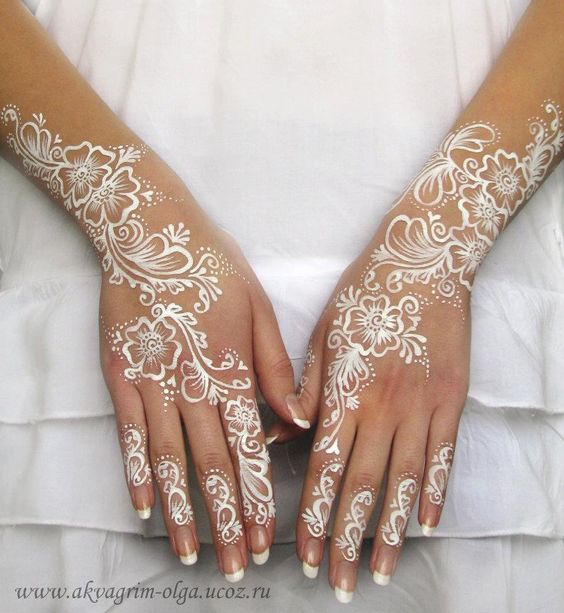 White mehndi designs for eid:  Eid is such an occasion when every Muslim girl or women loves to embellish hands or other body parts with mehndi. This eid you can also follow white henna latest trend for celebrating eid festivity. Here you can watch how to apply easy simple eid white henna design for beginners by mehndi artist Hira to make eid more exciting. Also see simple arabic mehndi designs step by step tutorials, latest eid makeup ideas, eid hairstyles step by step, and best nail arts designs for eid to celebrate eid in full spirit.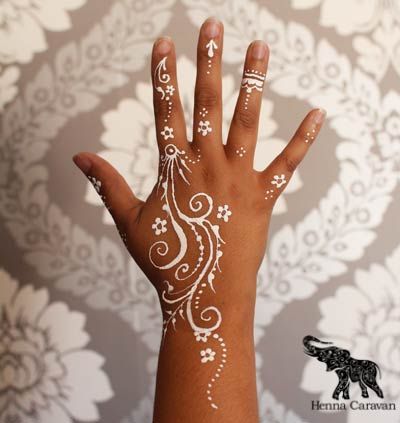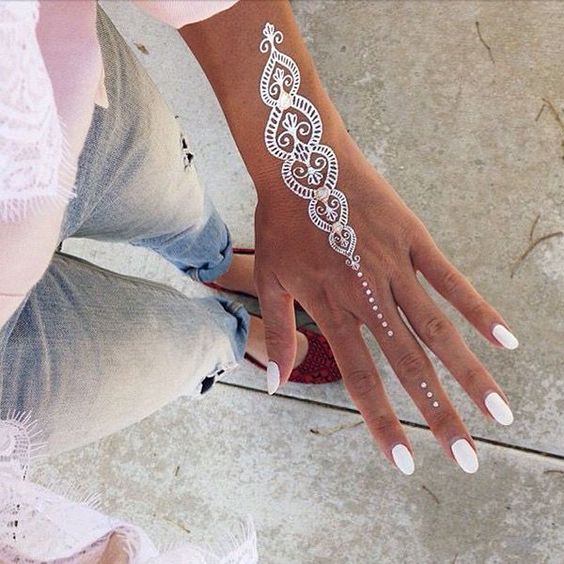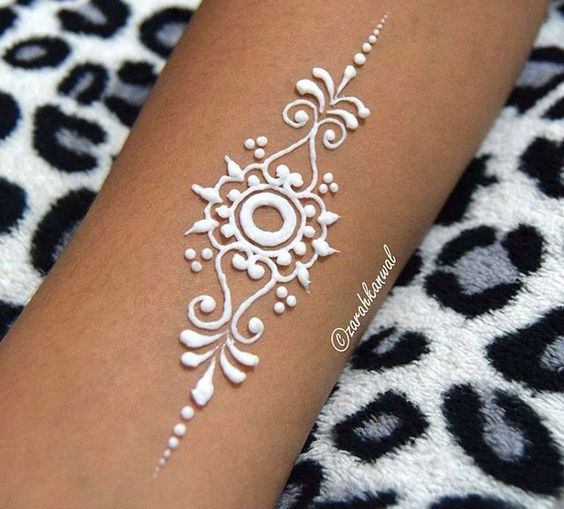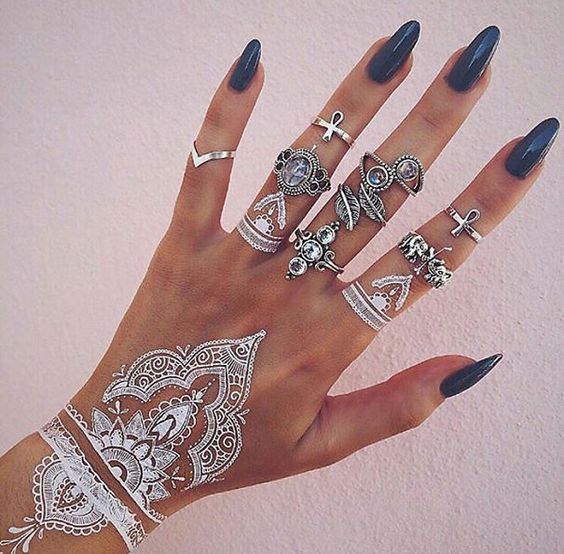 White mehndi for Christmas:  Beautiful white henna tattoo on hand, arm or feet can make your Christmas day superb day. Try trendy white henna designs for Christmas and holiday season like snowflake, dream catcher, feathers look super gorgeous for festive celebrations. Watch below how to apply winter snowflake white henna designs video tutorial.