Maria B Eid Collection 2017 Ready to Wear Dresses
Are you looking for trendy eid dress? So wait is over Maria B eid collection 2017 ready to wear dresses are released for girls and women who were looking for stylish eid party wear dress. You would find every sort of attires from casual, kurta,  unstitched and stitched in Maria B 2017 latest stitched eid collection for each day and evening for spending eid in full spirit. This recent eid party wear collection is full of summer breezy and fresh colors to celebrate eid in comfort and glam. So this post features maria B eid collection stitched or ready to wear dress, suits and tops with price for women and girls.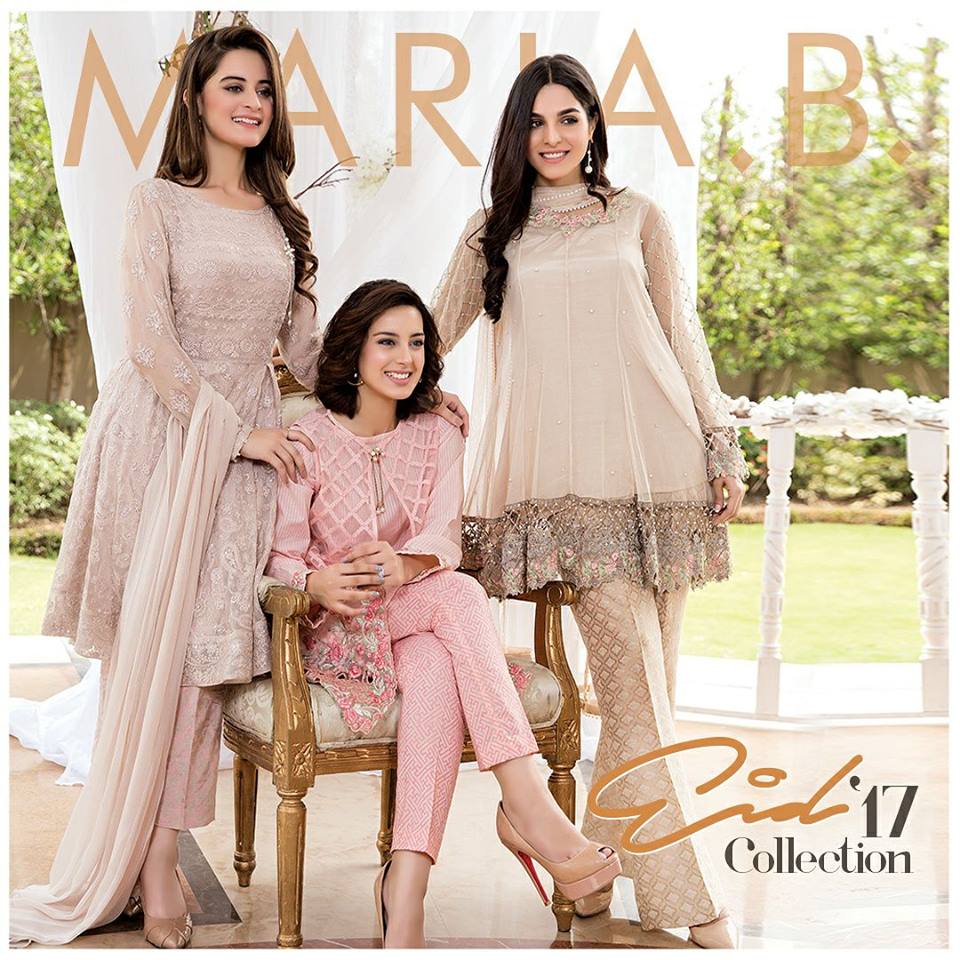 Maria B eid collection 2017 with Price
Mari B eid stitched dresses 2017 present astounding combination of summer fresh colors, light blue, light green, light pink, royal blue, shocking pink, off white and black. If I talk about dress designs and cuts these are combination of traditional and modern that offers a magnificent look. Little embroidered details on neckline and heavy lace work on hem line (daaman) gives overall traditional look so Maria B collection is perfect for eid festival.
Here I have  show cased best designs (that I would love to buy for myself) stitched outfits from Maria B latest eid party wear dress collection with price that will definitely grab your attention as well. For purchasing these dresses visit www.mariab.pk, I hope you will find these dresses attention garbing.
1. Maria B Lime Yellow Eid Dress
This light yellow outfit comes in three piece; embroidered shirt with pee ka boo sleeves sequenced with pearls, under shirt and very beautiful lace trouser in white colors make a wonder combo for an eid evening party, get together or BBQ night. This dress worth 17,550 PKR. For adding extra tweak pair it with high heels and select a stylish hairstyle from one of my post about simple eid hair ideas step by step.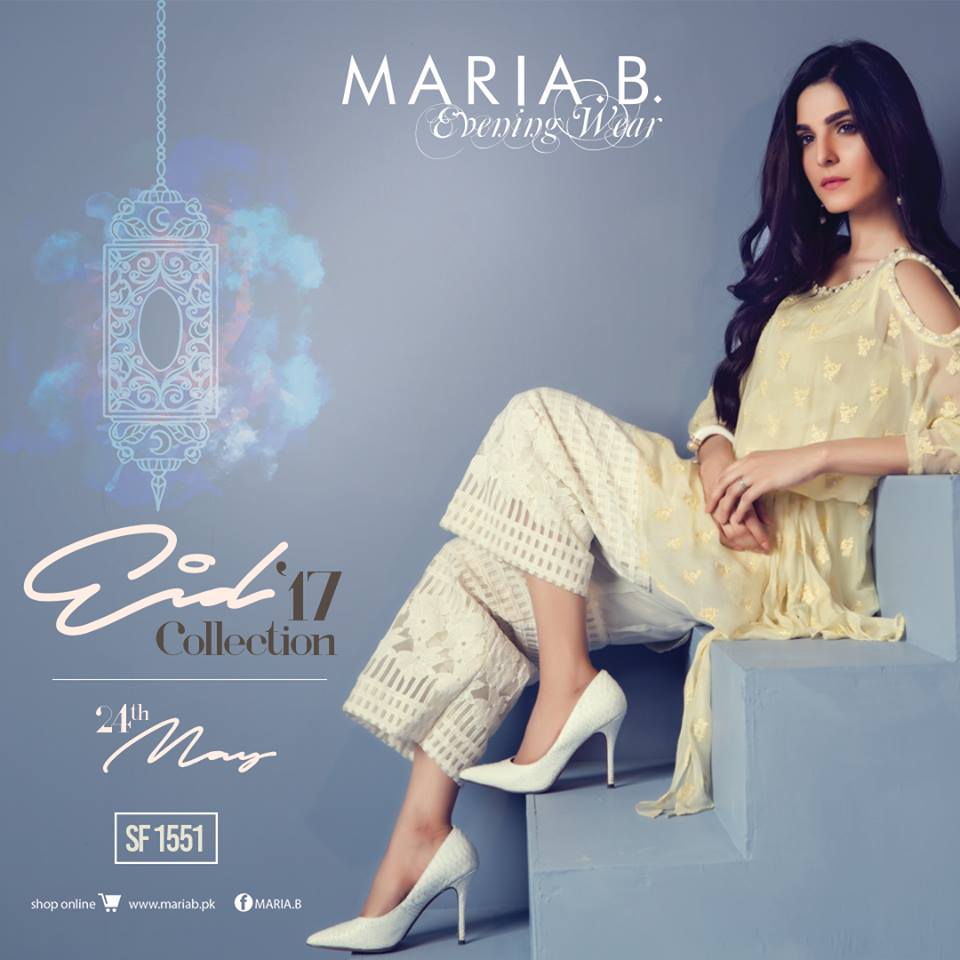 2. Light Pink Outfit for Eid
This light pink stitched suit comes in 3 piece with shirt in modern design embroidered chatta all over the, under shirt and elegant pink lace trouser. This pink attire is also available in light ferozi color choice is yours. This is another trendy dress for eid party or evening out that will make you look exotic in summer days. Pair this suit with court shoes and have a simple makeover, see easy eid makeup and lipstick ideas for eid 2017 step by step tutorials. This eid outfit costs 17,550 PKR.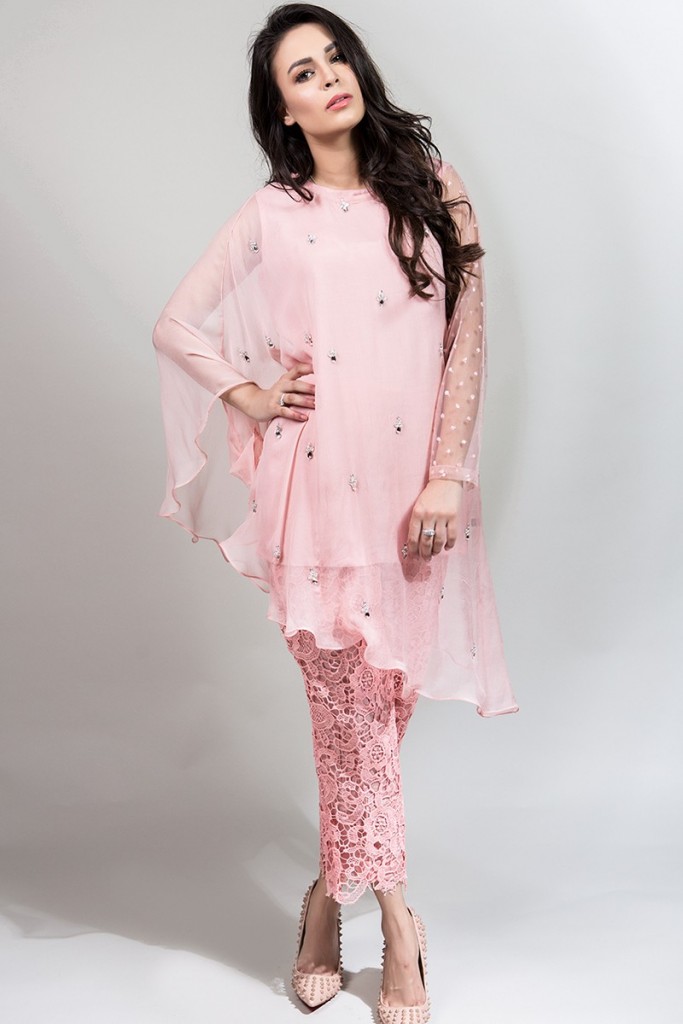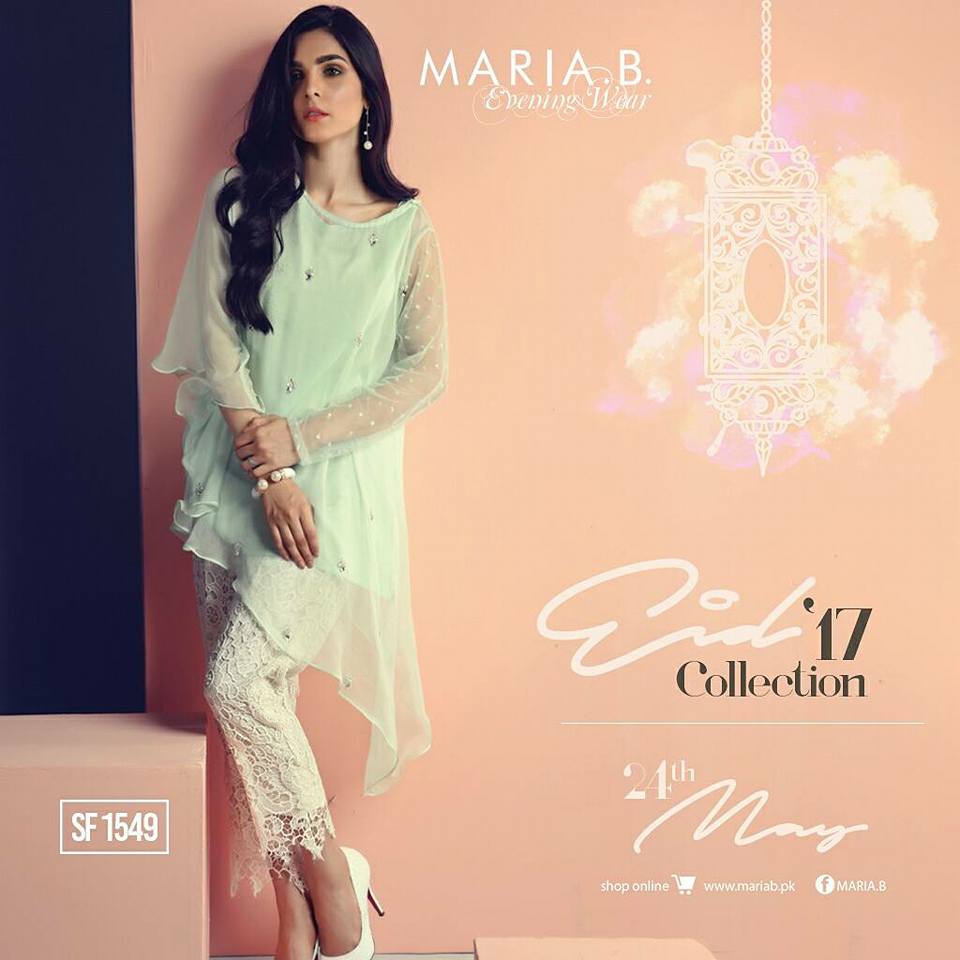 3. Maria B Net A-Line Frock for Eid
This Maria B off white eid A-line net frock comes in three piece, knee length embroidered frock, bell bottom trouser and pearl embellished net dupatta, this is one of the gorgeous pick from Maria B eid collection for festive celebrations. This suit is available in ferozi color and it costs 15,800 PKR. Wear this dress with bright lips to complement with off white color and have summer fresh nail designs to enhance beauty of the dress, getting nail design ideas and tips see these links; best nail designs 2017 for eid, simple lipstick ideas step by step tutorials.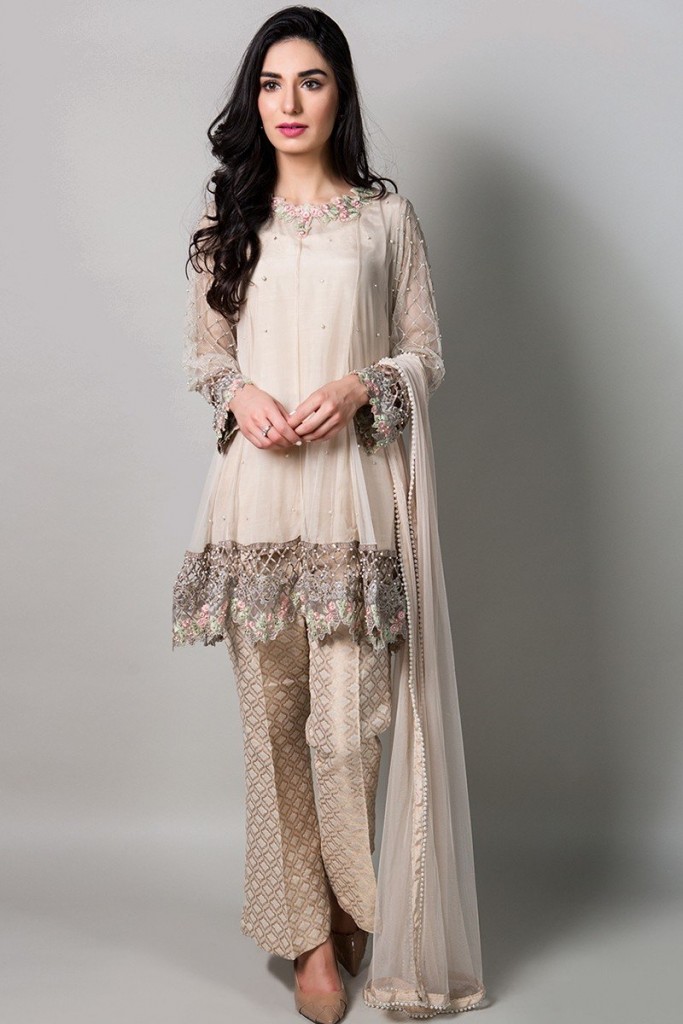 4. Maria B Blue Silk Top
This royal blue silk to in baggy style with sequenced motif on shoulder is trendies pick for eid party if you want to get a contemporary look. You can pair this top with trouser or tights and it's price is 5,200 PKR. It is also available in shocking pink color. Tip for this top is go for light make and light lips to complement bright color.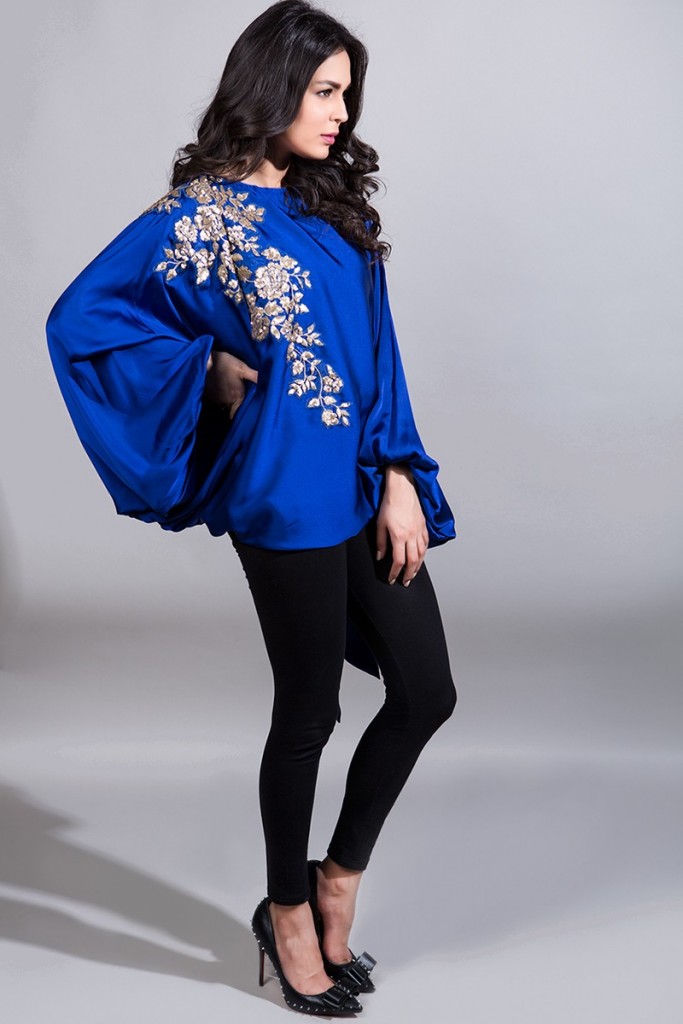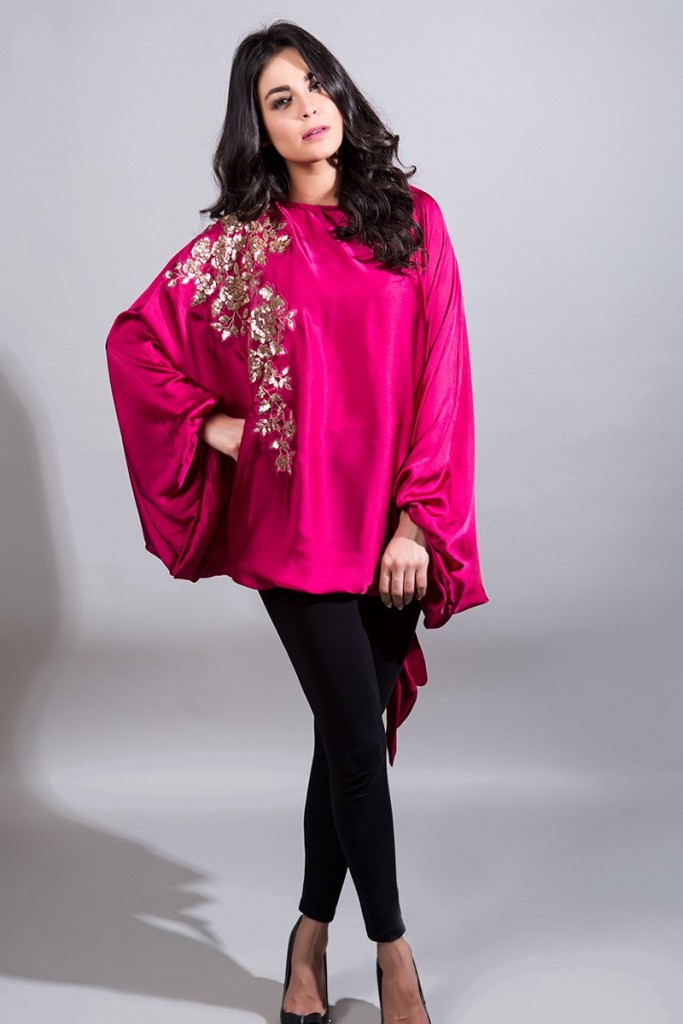 5. Light Grey Eid Frock by Maria B
This light grey suit comes in embroidered frock, undershirt, trouser and contrast dupatta is one of my favorite ready to wear dress form her new eid collection and it's worth 16,890 PKR. Wear this frock style dress with high heels and simple makeover.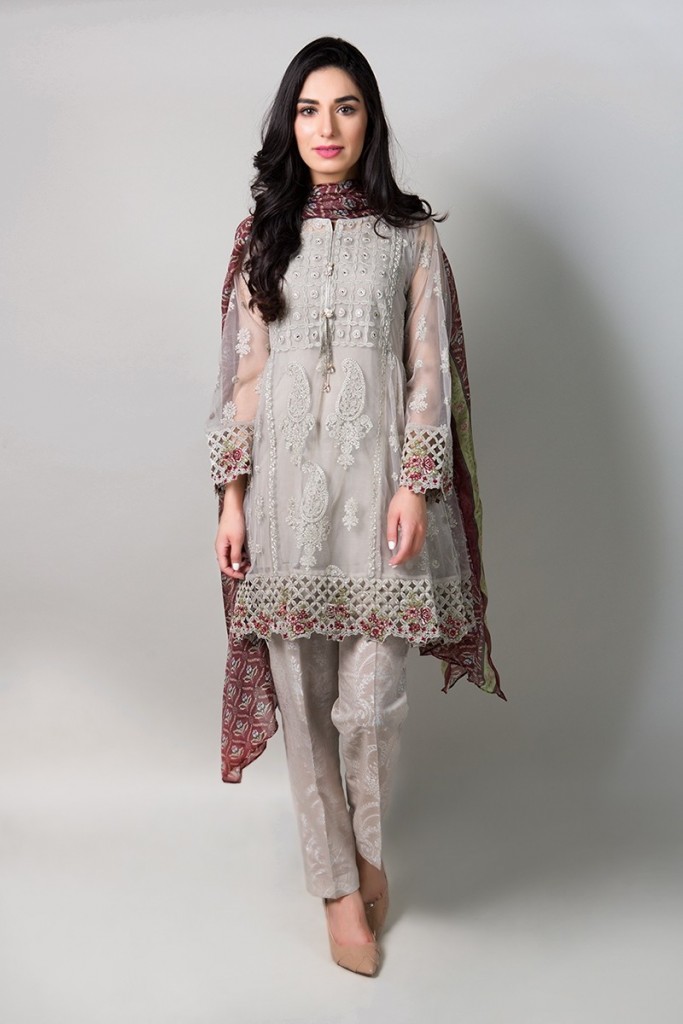 6. Black and White Eid High Low Frock
This black and white embroidered high low dress is available in three piece, shirt, undershirt and embroidered bell bottom pant. Cost of this dress is 15,400.